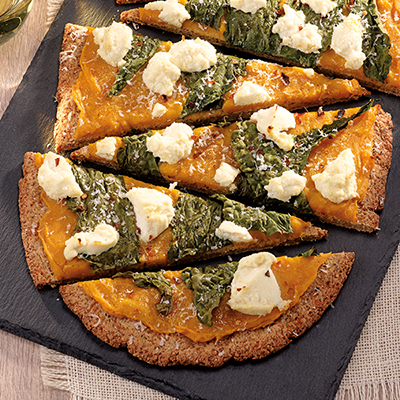 CAULIFLOWER CRUST PIZZA WITH BUTTERNUT SQUASH AND KALE
Ingredients
Serves 4
Cauliflower Pizza Crust, make ahead
2½ cups (625 ml) peeled and cubed butternut squash
1 tbsp (15 ml) avocado oil or grapeseed oil
salt and pepper, to taste
1 large shallot, trimmed and finely chopped
¼ cup (60 ml) grated Parmesan, plus extra for garnish
2 tbsp (30 ml) white wine or water
½ cup (125 ml) ricotta cheese
1 tsp (5 ml) finely grated lemon zest
4 or 5 cavolo nero/Tuscan kale leaves, washed and stems removed
¼ tsp (1 ml) red pepper chili flakes
1 medium cauliflower, trimmed, cut into florets, about 3 cups (750 ml)
3 tbsp (45 ml) ground flax seeds
1 cup (250 ml) brown rice flour
½ cup (125 ml) arrowroot flour
½ cup (125 ml) almond flour
¼ cup (60 ml) finely grated Parmesan
½ tsp (2.5 ml) garlic powder
Instructions
Preheat oven to 400 F (200 C).
On a rimmed baking sheet, toss together butternut squash, oil and a good pinch each of salt and pepper. Roast in oven, stirring once or twice, until softened and starting to caramelize, about 25 to 30 minutes. Stir shallot into squash and continue to roast until shallots have softened, about 10 to 15 minutes. Transfer mixture to a food processor along with Parmesan and wine before combining until smooth.
In a small bowl, stir together ricotta cheese and lemon zest. Set aside.
Spread squash purée over prepared Cauliflower Pizza Crust and top with torn pieces of kale and dots of ricotta cheese mixture. Return pizza to oven and bake for another 10 to 15 minutes. Garnish warm pizza with a drizzle of extra-virgin olive oil, some Parmesan and sprinkle of chili flakes.
To make CAULIFLOWER PIZZA CRUST (make ahead): Preheat oven to 400 F (200 C). Line a large baking sheet with parchment paper and set aside.
lace cauliflower florets in a food processor and pulse until finely chopped. Transfer cauliflower crumbs to a large frying pan and place over medium heat. Stir salt into cauliflower and cook stirring constantly until warmed through but not browned, about 5 to 8 minutes. Transfer to a cheesecloth-lined colander and set aside to drain and cool slightly.
In a small bowl, whisk together ground flax seeds and water. Set aside for 10 minutes.
Once cauliflower is cool enough to handle, wrap up in cheesecloth and squeeze out as much excess water as possible. Place drained cauliflower in a large bowl, add flax mixture, flours, Parmesan and garlic powder. Mix together with hands until a ball of dough forms. Kneed dough on a clean work surface for 1 minute before pressing into a ¼-in (0.5 cm) thick rectangle on prepared baking sheet. Bake until golden brown, about 25 minutes. Makes 1 large pizza crust.
Drink Pairings