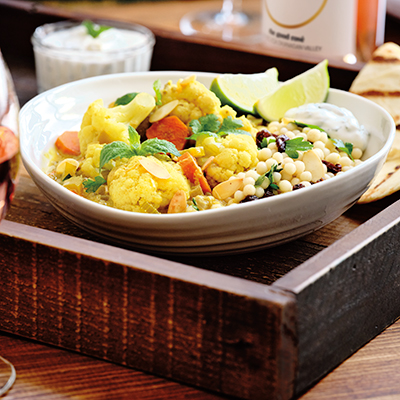 Cauliflower Curry with Pearl Couscous
Ingredients
Serves 2-3
1 small yellow onion, diced
1 tbsp (15 ml) minced fresh ginger
2 medium celery stalks, chopped
½ tsp (2.5 ml) ground ginger
½ tsp (2.5 ml) ground turmeric
1 tsp (5 ml) ground cumin
2 tsp (10 ml) curry powder
1 x 13.5 oz (400 ml) can full-fat coconut milk
1 cup (250 ml) vegetable stock
1 head cauliflower, trimmed, broken into florets
salt and pepper, to taste
½ cup (125 ml) chopped cilantro leaves, divided
3 cups (750 ml) cooked pearl couscous
½ cup (125 ml) dried currants or raisins
1 cup (250 ml) chopped flat leaf parsley leaves
1 cup (250 ml) plain yogurt
¼ cup (60 ml) minced mint leaves
1 lime, juice and zest, plus lime wedges for garnish
¼ cup (60 ml) toasted slivered almonds, for garnish
Instructions
Heat oil in a large stockpot over medium heat. Add onion, garlic and fresh ginger and sauté for 5 minutes, or until soft. Add carrot, celery, ground ginger, turmeric, cumin and curry powder. Stir to coat and sauté for another 5 minutes, until fragrant.
Stir in coconut milk and reduce heat to medium-low. Let simmer to reduce slightly, about 10 minutes. Add vegetable stock, soy sauce and cauliflower and simmer for another 8 minutes, until cauliflower is tender but not mushy. Remove from heat, taste and season as needed with salt and pepper, then add ¼ cup (60 ml) cilantro. Set aside.
In a medium bowl, combine couscous, currants and parsley. Dress with lemon juice and stir to combine.
To make yogurt sauce, in a small bowl, combine yogurt, mint and lime juice and zest. Season with salt and pepper and stir to combine.
To serve, top couscous with cauliflower curry and a dollop of yogurt sauce. Garnish with remaining ¼ cup (60 ml) cilantro, almonds and lime wedges.
Drink Pairings