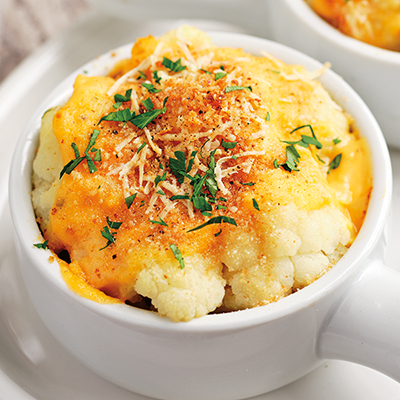 CAULIFLOWER "MAC" AND CHEESE WITH TRUFFLE OIL
Ingredients
Serves 2 as a main or 4 as a side
1 large head cauliflower, cut into bite-sized florets
1½ cups (375 ml) grated cheddar cheese
salt and pepper, to taste
¼ cup (60 ml) bread crumbs
½ cup (125 ml) grated Parmigiano-Reggiano
2 tbsp (30 ml) truffle oil, or to taste
¼ cup (60 ml) chopped parsley leaves
Instructions
Preheat oven to 350 F (180 C).
To prepare cauliflower, steam florets for 5 minutes then shock in an ice bath and set aside.
In a large saucepan, heat olive oil over medium-high heat. Add onion and garlic and sauté for 2 to 5 minutes, until soft then add butter. Once butter has melted, add flour and stir to combine into a paste. Whisk in milk; sauce will smooth out and thicken. Add cheddar and continue to whisk until completely melted. Season with salt and pepper.
Add steamed cauliflower florets to pan and stir to coat with sauce. Remove from heat and transfer to four 4-in ramekins or a 9 x 9-in (23 x 23 cm) baking pan. Sprinkle with bread crumbs and Parmesan. Bake for 20 to 25 minutes, or until golden brown and tender. Drizzle with truffle oil and garnish with parsley before serving.
Drink Pairings