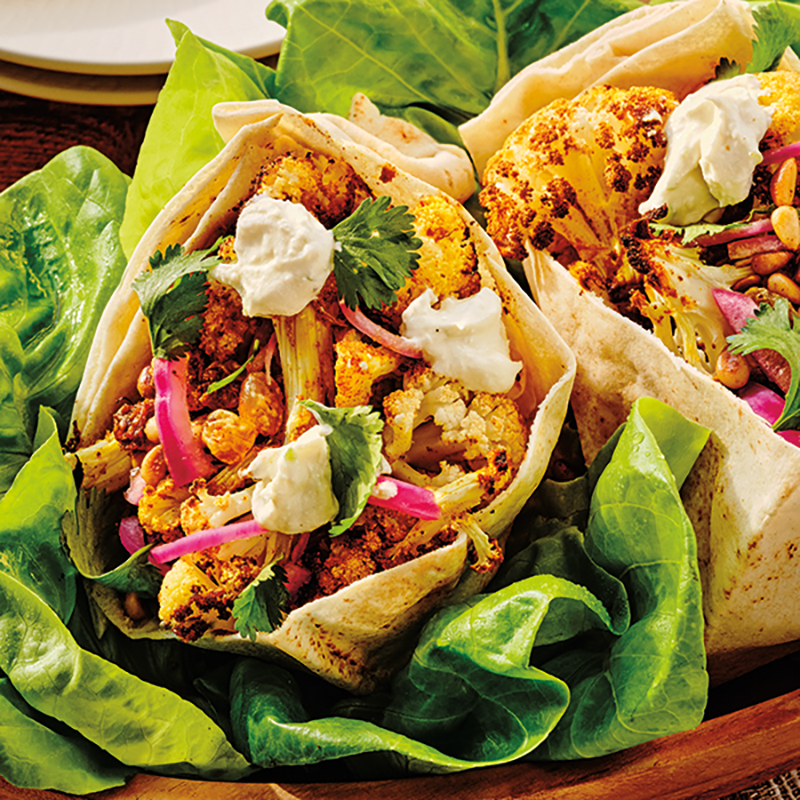 Cauliflower Shawarma served with Tahini Yogurt Sauce
Light Middle Eastern Fair
Ingredients
Serves 2 to 4
½ cup (125 ml) red wine vinegar
1 cup (250 ml) full fat plain Greek yogurt
½ cup (125 ml) grated cucumber
½ cup (125 ml) crumbled Macedonian feta
salt and pepper, to taste
1 tsp (5 ml) garlic powder
1 large head cauliflower, cut into florets
¼ cup (60 ml) golden raisins
2 tbsp (30 ml) pine nuts, toasted
½ cup (125 ml) cilantro, leaves only
Instructions
In a small saucepan, heat red wine vinegar and water over medium-high heat. Add 1 tsp (5 ml) salt and sugar and cook until dissolved. Pour into a heatproof container and add sliced red onions. Set aside for at least 1 hour to pickle.
To make a tahini yogurt sauce, in a small mixing bowl, place yogurt, garlic, cucumber, lemon juice, tahini and feta. Mix to combine and season with salt and pepper to taste. Thin with water as desired for consistency. Refrigerate until ready to serve.
Preheat oven to 400 F (200 C).
In a large mixing bowl, combine garlic powder, cumin, paprika, coriander, turmeric, cinnamon and olive oil. Add cauliflower florets and toss to coat in spice mixture. Place on a baking tray and bake until golden brown and crispy, 15 to 20 minutes.
To serve, place warm cauliflower on pita and garnish with golden raisins, pine nuts and cilantro. Top with pickled red onions and tahini yogurt sauce.
Drink Pairings