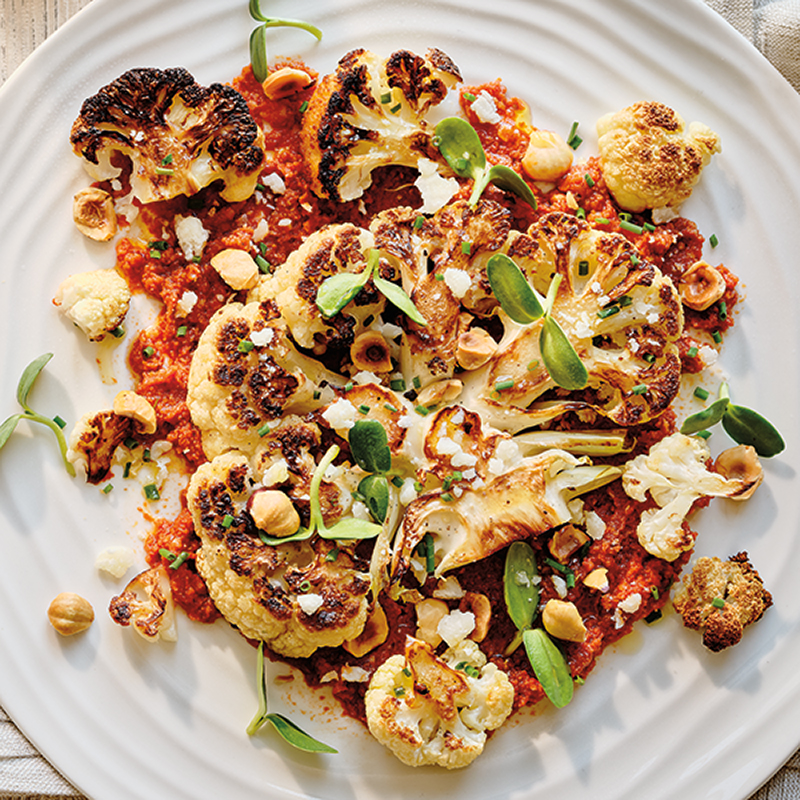 Cauliflower Steaks with Sun-dried Tomato Pesto
Ingredients
Serves 4
1 cup (250 ml) sun-dried tomatoes, soaked in hot water for 10 minutes then drained
⅓ cup (75 ml) + 3 tbsp (45 ml) extra-virgin olive oil, divided
3 tbsp (45 ml) roasted, peeled hazelnuts, plus extra for garnish
2 tbsp (30 ml) sherry vinegar
2 oz (57 g) Manchego cheese, plus extra for garnish
1 tsp (5 ml) warm water, plus extra as needed (optional)
salt and pepper, to taste
1 head cauliflower, sliced into 1½-in (3.75 cm) "steaks"
Instructions
To make pesto, in a small food processor or blender, pulse tomatoes, ⅓ cup (75 ml) olive oil, garlic, hazelnuts, vinegar and Manchego until it forms a rough paste, adding warm water 1 tsp (5 ml) at a time if mixture is too thick to blend. Season with salt and pepper to taste.
Preheat oven to 400 F (200 C). Lay cauliflower "steaks" on a parchment-lined baking sheet and drizzle with remaining 3 tbsp (45 ml) olive oil, flipping pieces over to coat both sides. Season with salt and pepper. Roast for 20 to 30 minutes, or until cauliflower is deep golden brown, cooked through and crispy on edges.
Serve cauliflower with sun-dried tomato pesto and garnish with hazelnuts, Manchego and pea sprouts.
Drink Pairings