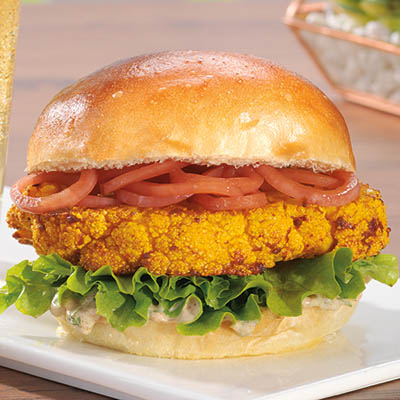 CAULIFLOWER TURMERIC BURGER WITH PICKLED ONIONS
Ingredients
Serves 2
1 tsp (5 ml) ground turmeric
1 tbsp (15 ml) Thai red chili paste (Nam Prik Pao
1 tbsp (15 ml) melted coconut oil
¼ cup (60 ml) almond butter
1 tbsp (15 ml) lime juice
1 tbsp (15 ml) chopped fresh cilantro
2 tsp (10 ml) light brown sugar
2 wholegrain burger buns, halved
½ cup (125 ml) red wine vinegar
2 tbsp (30 ml) granulated sugar
1 small red onion, sliced into ⅛-in (0.25 cm) thick rings
Instructions
Preheat oven to 425 F (220 C).
Remove leaves and trim stem of cauliflower. Place cauliflower, stem up, on a cutting board. With a large knife, slice down either side of stem, trimming off florets. Reserve these florets for another use. Slice lengthwise down centre of stem, producing 2 cauliflower steaks and place on a parchment-lined baking sheet.
In a small bowl, whisk together turmeric, chili paste and coconut oil. Spread mixture evenly all over cauliflower steaks. Roast cauliflower for 10 minutes before flipping over and roasting another 10 to 15 minutes. Cauliflower steaks should start to caramelize on edges but should still be quite firm in centre.
While cauliflower is roasting, in a medium bowl, whisk together sour cream, almond butter, lime juice, cilantro, fish sauce and brown sugar. Spread cut side of bottom buns with a generous spread of sauce. Top with cauliflower steak, lettuce and some Pickled Onions. Spread some more sauce on top bun before placing on top of onions. Serve immediately.
To make PICKLED ONIONS: In a small saucepan, combine vinegar, sugar and salt. Bring to a simmer over medium heat and stir in onion rings. Bring mixture back to a simmer and cook for 30 seconds. Pour hot pickled onions into a bowl and let cool to room temperature. Rings will turn glassy as they cool. Cover and store in an airtight container in refrigerator for up to 3 weeks. Makes about 1 cup (250 ml).
Drink Pairings