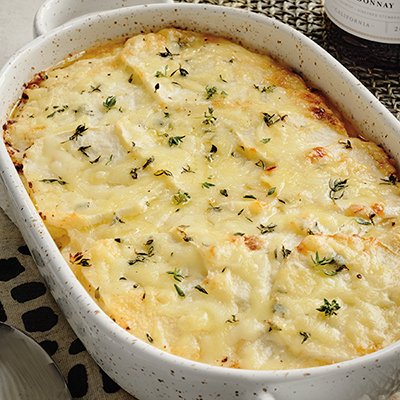 Ingredients
Serves 4-6
2 cups (500 ml) whipping cream
salt and pepper, to taste
3 tbsp (45 ml) butter, softened
2 large celeriac, peeled and sliced into ¾-in (2 cm) slices (use a mandoline or sharp knife)
1 medium onion, thinly sliced
1 cup (250 ml) shredded white cheddar cheese
Instructions
Preheat oven to 350 F (180 C). In a small saucepan over low heat, heat cream, garlic, salt and pepper, thyme and bay leaf for 15 minutes to infuse cream with flavour; do not boil.
Generously butter a 9 x 9-in (23 x 23 cm) casserole dish with the 3 tbsp (45 ml) softened butter. Place celeriac on bottom, then sprinkle a few slices of onion and ¼ the cheese on top. Repeat layers, ending with cheese on top.
Remove and discard garlic, thyme and bay leaf from cream. Pour cream over casserole, cover with foil and transfer to oven to bake. After 45 minutes check that celeriac is tender and can easily be pierced with a knife. If not, bake, covered, until it is. Remove foil and bake for another 15 to 20 minutes, or until cheese is golden brown. Let sit for 15 minutes before serving.
Drink Pairings