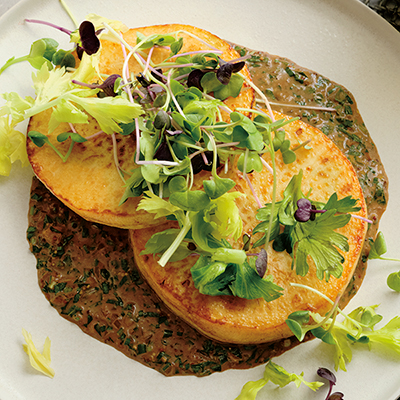 Ingredients
Serves 4
2 tbsp (30 ml) extra-virgin olive oil
2 small celeriac, peeled and cut into 2-in (5 cm) slices
salt and pepper, to taste
1 tsp (5 ml) white wine vinegar
1 tsp (5 ml) Worcestershire sauce
2 tsp (10 ml) grainy mustard
3 tbsp (45 ml) vegetable stock
3 tbsp (45 ml) whipping cream
2 tbsp (30 ml) thinly sliced chives
1 tbsp (15 ml) finely chopped parsley leaves
Instructions
Preheat oven to warming setting. Heat olive oil and butter in a large frying pan over medium heat. Once butter has melted, place celeriac slices in pan, working in batches if needed. Cook over medium heat until golden brown on 1 side, about 5 to 8 minutes, season with salt and pepper, then flip. Repeat on other side, checking after about 5 minutes if they are tender all the way through. If not, continue cooking until they are.
Remove celeriac from pan and transfer to oven to keep warm.
To make sauce, add shallot to pan and cook until soft. Add vinegar, Worcestershire sauce and mustard and simmer until reduced by half, about 2 minutes. Add brandy and simmer for 1 minute. Add vegetable stock and simmer again until reduced by ¾, about 3 minutes.
Add cream, chives, parsley and lemon juice. Taste and adjust seasoning as needed.
To serve, plate 2 steaks per person and serve with sauce and salad.
Drink Pairings