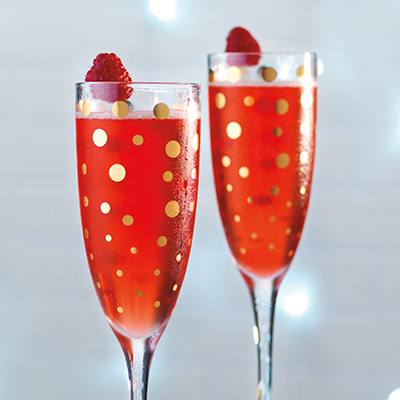 Ingredients
Serves 1
1 oz (30 ml) Hendrick's Gin
2 oz (60 ml) Raspberry-Hibiscus Tea Cordial, make ahead, recipe follows
2 oz (60 ml) Chamdeville Blanc de Blancs Brut
Instructions
In a cocktail shaker with ice, combine gin and cordial. Shake vigorously and fine strain into a Champagne flute. Top with sparkling wine and garnish with a raspberry.
MAKE IT A MOCKTAIL: Prepare as directed above, omitting gin, and topping with soda water instead of sparkling wine.
TO MAKE RASPBERRY-HIBISCUS TEA CORDIAL: Steep 3 Raspberry-Hibiscus tea bags in 3 cups (750 ml) boiling water for 5 minutes. In a saucepan, combine 20 oz (600 ml) of steeped tea, 1¼ cups (310 ml) sugar and 2 tsp (10 ml) citric acid. Simmer to dissolve sugar and remove from heat. Once cooled, store in refrigerator in a sealed bottle for up to 2 weeks.
Featuring