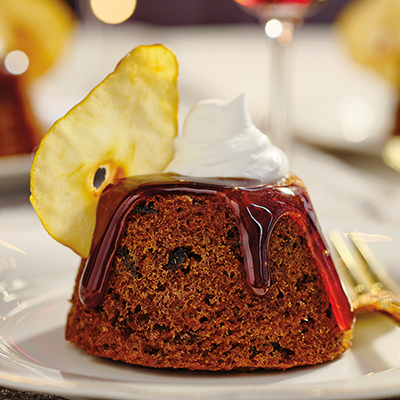 CHAI FIGGY CAKES WITH RED WINE CARAMEL AND PEAR CRISPS*
Ingredients
Serves 10 cakes. * Please note, this recipe should be started at least 1 day in advance.
2⅓ cups (575 ml) granulated sugar, divided
1¼ cups (310 ml) water, divided
1 tbsp (15 ml) lemon juice
½-in (1.25 cm) piece fresh ginger, sliced
½ vanilla bean, halved lengthwise
1 tbsp (15 ml) + ½ cup (125 ml) unsalted butter, room temperature, divided, plus extra for greasing
¾ cup (175 ml) chopped dried figs
¾ cup (175 ml) chopped dried dates
1¼ cups (310 ml) boiling water
1½ cups (375 ml) all-purpose flour
2 tsp (10 ml) baking powder
½ tsp (2.5 ml) kosher salt
¼ tsp (1 ml) ground cinnamon
¾ cup (175 ml) packed light brown sugar
3 large eggs, room temperature
lightly sweetened whipped cream, for serving (optional)
Instructions
To make Pear Crisps, in a small saucepan, combine 1 cup (250 ml) sugar, 1 cup (250 ml) water, lemon juice and ginger and bring to a gentle boil over medium heat. Transfer to a large heatproof bowl and set aside to cool to room temperature. Using a mandolin or sharp knife, carefully cut pear into ⅛-in (0.25 cm) slices. Remove any seeds and submerge pear slices in sugar syrup. Allow to sit at room temperature for at least 4 hours or, even better, overnight.
Preheat oven to 200 F (93 C). Place a wire rack on a baking sheet and top with a piece of parchment paper.
Remove pear from syrup, letting any extra syrup drip off, then place in a single layer on parchment-lined rack. Bake, turning over every hour, until firm and crisped, about 4 to 6 hours. Turn off oven and prop open oven door with a wooden spoon, letting pear slices cool completely in oven. Once cooled, use for garnish or store in an airtight container in a cool, dry place for up to 2 days.
To make Red Wine Caramel, scrape vanilla seeds from pod into a small saucepan, then add vanilla pod and wine. Bring to a boil over medium-high heat until wine is reduced to about ½ cup (125 ml), about 10 minutes. Remove from heat and discard vanilla pod.
In a medium saucepan, stir together remaining 1⅓ cups (325 ml) sugar and ¼ cup (60 ml) water and bring to a boil over medium-high heat. Boil, without stirring, and washing down any sugar crystals that form on side of pan with a pastry brush dipped in cold water, until syrup turns pale golden, about 6 to 10 minutes. Continue to cook, swirling pan occasionally, until deep golden, about another 1 to 2 minutes. Remove from heat and carefully pour red wine reduction down side of pan into caramel. Take care, as it will steam and sputter. Return saucepan to medium-low heat and stir continuously until caramel is smooth and has thickened slightly, about 4 minutes. Remove from heat and stir in 1 tbsp (15 ml) butter. Set aside or transfer to an airtight container and refrigerate for up to 1 week.
To make cakes, preheat oven to 350 F (180 C). Grease 10 cups in nonstick popover pans.
In a medium bowl, stir together figs, dates, boiling water and baking soda. Add tea bags, submerging in mixture, and set aside for 10 minutes to soak. Discard tea bags.
Meanwhile, in a small bowl, whisk together flour, baking powder, salt and cinnamon.
In bowl of a stand mixer fitted with paddle attachment, cream together remaining ½ cup (125 ml) butter and brown sugar until pale and fluffy, about 2 minutes. Add eggs, 1 at a time, beating well after each addition. Add fig and flour mixtures. Stir until just combined. Spoon batter into prepared cups until ¾ full. Place popover pans on a baking sheet and bake until a wooden skewer inserted in centre comes out clean, about 25 to 30 minutes. Allow cakes to cool about 10 minutes in pan before turning out onto a wire rack.
Divide warm cakes onto serving plates. Drizzle with Red Wine Caramel and garnish with a couple of Pear Crisps and a dollop of lightly sweetened whipped cream, if desired. Serve immediately. Any extra cakes can be frozen. Allow to cool completely, wrap well in plastic wrap or an airtight container, and freeze for up to 1 month. To thaw, leave out at room temperature for several hours, warming in a 300 F (150 C) oven for 5 to 8 minutes before serving, if desired.
Drink Pairings