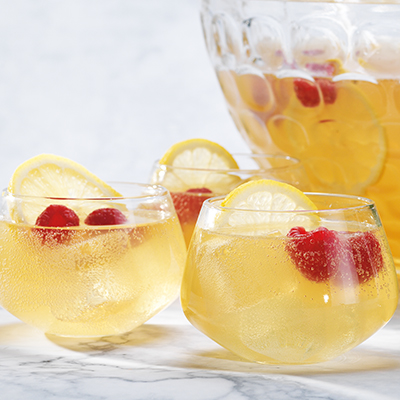 Ingredients
Serves 20
2 cups (500 ml) St-Rémy VSOP brandy
1 cup (250 ml) fresh lemon juice
3/4 cup (180 ml) Sugar Syrup
1 tsp (5 ml) orange bitters
6 cups (1.5 L or 2 bottles)
Veuve Du Vernay brut, chilled
lemon wheels, for garnish
ice, preferable a large block
Instructions
In a pitcher or large glass jar, combine brandy, lemon juice, Sugar Syrup and bitters. Stir until blended. Chill for a couple of hours or overnight.
When ready to serve, pour the gin base into a large, non-reactive punch bowl. Add the bubble and stir gently. Add ice, then garnish with lemon wheels. To serve, ladle into punch glasses. Makes 20 servings (10 cups or 2.5 L).
To make SUGAR SYRUP: Bring 1 cup (250 ml) sugar and ½ cup (125 ml) water just to a boil, stirring constantly, until sugar is completely dissolved. Will keep, refrigerated, for a week or two.
Featuring