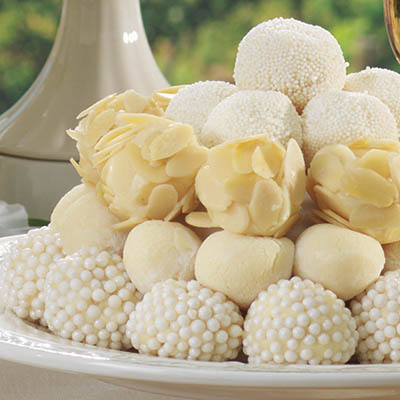 Ingredients
Serves about 24
14 oz (400 g) white chocolate, chopped
¼ cup (60 ml) whipping cream
¼ cup (60 ml) unsalted butter, at room temperature
various sized sugar pearls, for garnish
sliced blanched almonds, for garnish
Instructions
In a small saucepan warm champagne over medium heat. Bring to a simmer and reduce volume by half, about 10 minutes. Set aside and cool to room temperature.
Add chocolate and cream to a heatproof bowl and place over a saucepan of simmering water. Do not let bowl directly touch water. Stir occasionally until chocolate has completely melted. Remove from heat before whisking in cooled champagne reduction. Add butter, 1 tbsp (15 ml) at a time, and whisk until incorporated and mixture is smooth. Press some plastic wrap on surface of chocolate mixture and refrigerate until firm, about 4 hours.
Once firm, scoop spoons of chocolate mixture and form into small balls. Roll a third of truffles in various sized sugar pearls, a third in icing sugar and remaining third in blanched almonds. Store truffles in an airtight container in refrigerator for up to 1 week. Serve while still slightly chilled.
Drink Pairings