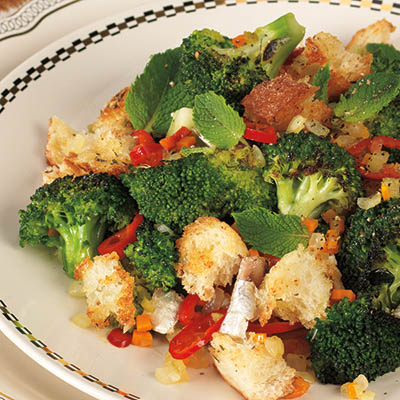 Ingredients
Serves 8
3 cups (750 ml) roughly torn 1-in (2.5 cm) pieces of country loaf
2 tbsp (30 ml) + ½ cup (125 ml) olive oil, divided
1 tsp (5 ml) garlic powder
salt and freshly ground pepper, to taste
1 large yellow onion, minced
4 jalapeños or Fresno chilies, sliced into thin rounds and seeded
3 lbs (1.5 kg) broccoli, cut into florets
4 anchovy fillets packed in oil, drained, roughly chopped
½ cup (125 ml) white wine
½ cup (125 ml) mint leaves
Instructions
On a rimmed baking sheet, toss together bread, 2 tbsp (30 ml) olive oil, garlic powder, dried thyme and a pinch each of salt and pepper. Set aside.
In a medium saucepan, heat ¼ cup (60 ml) olive oil over medium heat. Add onion, carrot, celery, chilies and a pinch of salt. Cook, stirring occasionally, until vegetables are very soft, but not brown, about 12 to 15 minutes. Remove saucepan from heat and set aside to cool to room temperature.
Place oven racks in top and bottom thirds of oven and preheat to 425 F (220 C). Place a roasting pan on bottom oven rack while oven is preheating.
In a large bowl, toss together broccoli and ¼ cup (60 ml) olive oil. Place in preheated roasting pan and roast, stirring every 10 minutes until deeply browned on at least one side. Stir in cooled vegetable mixture, anchovies and wine. Roast, stirring once halfway through cooking time, until broccoli is tender and liquid is mostly evaporated, about 25 to 30 minutes. Season to taste with salt and pepper.
While broccoli is roasting, place baking sheet with bread in oven on top rack until golden and crisp, about 8 to 12 minutes.
To serve, layer broccoli mixture, croutons and mint together in a large serving bowl or among warm salad bowls. Serve immediately.
Drink Pairings