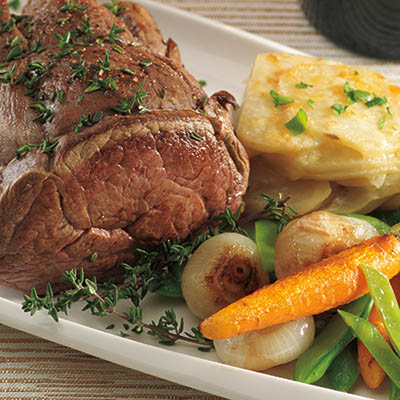 Ingredients
Serves 2
1 x 10 oz (300 g) centre-cut beef tenderloin
sea salt and freshly ground black pepper
1 large shallot, peeled, finely chopped
1 large portobello mushroom, finely sliced or coarsely chopped
½ tsp (2 ml) fresh thyme leaves
½ cup (125 ml) dry red wine
2 tbsp (30 ml) cold unsalted butter
Instructions
Preheat oven to 450 F (220 C).
Season tenderloin with salt and black pepper. Place olive oil in an ovenproof, heavy-bottomed frying pan over high heat. As soon as it begins to smoke, add beef to hot oil and sear on all sides until brown. Transfer pan to the oven and roast until the internal temperature reaches 130 F (50 C), 10 to 15 minutes for mediumrare. Remove from oven and place beef on a cutting board and tent with foil.
Pour all but a thin film of fat from the pan. Add shallot, mushroom and thyme and sauté over medium-low heat, until the shallots are golden, about 2 to 3 minutes. Add wine and raise heat to high, deglazing and scraping any brown bits from pan. Reduce until syrupy, about 5 minutes. Reduce heat and whisk in butter until emulsified.
To serve, carve tenderloin into thick slices and drizzle with sauce.
Drink Pairings