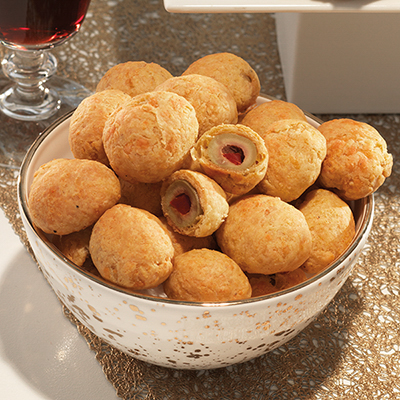 Ingredients
Serves 8
24 large pimento-stuffed green olives
1½ cups (375 ml) grated sharp cheddar
1 cup (250 ml) all-purpose flour
¼ cup (60 ml) unsalted butter, at room temperature
¼ tsp (1 ml) smoked paprika
¼ cup (60 ml) water, plus extra if needed
Instructions
Preheat oven to 400 F (200 C). Line a baking tray with parchment paper and set aside.
Place olives in a colander, rinse well under cold water and pat completely dry on a clean dish towel. Set aside.
In a medium bowl, stir together cheese, flour, butter, paprika and pepper. Add water and kneed ingredients together until a dough forms. If dough is crumbly and will not hold together add more water 1 tsp (5 ml) at a time.
Pinch off a generous 1 tsp (5 ml) of dough and press into a thin disk between your fingers. Place an olive in middle and wrap dough around it, roll between palms until dough is smooth and sealed around olive. Repeat until all olives are wrapped in cheddar dough. Place olives on prepared tray and bake until golden brown, about 12 to 15 minutes. Serve warm.
Drink Pairings