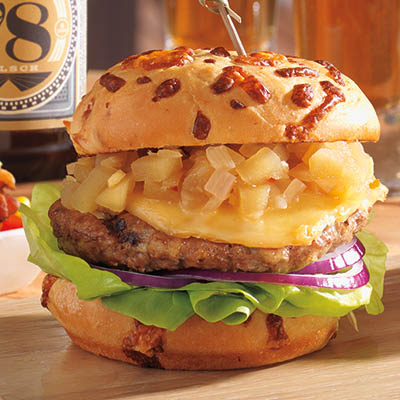 CHEESED TURKEY BURGER WITH APPLE-CURRANT GINGER CHUTNEY
Ingredients
Serves 8
8 oz (250 ml) fine grated Parmesan cheese
1½ cups (375 ml) shredded Mexican cheese blend
1 medium onion, finely chopped
¼ cup (60 ml) old-fashioned oats
2 lg eggs, lightly beaten
1 tsp (5 ml) dried oregano
1 tbsp (15 ml) Worcestershire sauce
2 lbs (1 kg) lean ground turkey
8 thin sliced smoked gouda
8 cheese hamburger buns or your choice of bun
1 red onion, thinly sliced
¼ cup (60 ml) Dijon mustard
¼ tsp (1 ml) cayenne pepper
2 tsp (10 ml) cider or white vinegar
2 large Granny Smith Apples, peeled, cored and chopped ½-inch dice (.5 cm)
1 cup (250 ml) fine chopped onion
¾ cup (175 ml) cider vinegar
¾ cup (175 ml) firm packed dark brown sugar
½ cup (75 ml) currants or golden raisins
3 tbsp (45 ml) finely minced ginger
½ tsp (2 ml) dried hot red pepper flakes
Instructions
In a large mixing bowl, combine Parmesan and Mexican cheese, garlic, onion, oats, eggs, oregano, Worcestershire sauce, and salt. Crumble turkey over mixture and mix well, taking care not to overmix. Cover and refrigerate 15 minutes. Shape into 8 X ½-inch (0.5 cm) thick patties.
Preheat a grill pan or barbecue to medium-high heat. Using longhandled tongs, moisten a paper towel with cooking oil and lightly coat the grill rack. Grill burgers, uncovered, 6 to 8 minutes on each side or until juices run clear. Add a smoked gouda slice to each patty right before taking off the grill, about 1 minute to allow for melting.
Slice and toast buns. Spread a dollop Honey Mustard Sauce on the bottom of the bun. Add lettuce leaves and red onion. Transfer cheese topped patty and dollop with Apple Ginger Chutney.
To make HONEY MUSTARD SAUCE, Mix all ingredients until well blended.
To make APPLE GINGER CHUHTNEY, Add all ingredients to a medium saucepan and cook over medium heat. Bring the mixture to a boil, stirring occasionally for 40 minutes, or until it has thickened. Spoon into a sterilized glass jars with a tight lid.
Drink Pairings