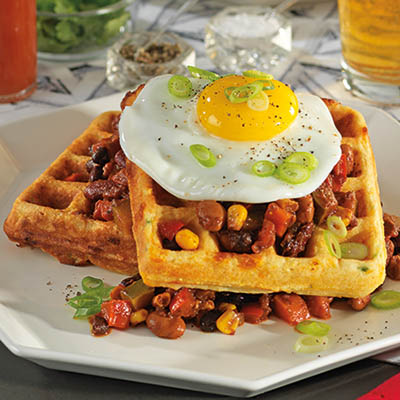 CHEESY JALAPEÑO CORNBREAD WAFFLES SERVED WITH TIPSY CHILI
Ingredients
Serves 4
1½ cups (375 ml) all-purpose flour
2 tsp (10 ml) granulated sugar
2 tsp (10 ml) baking powder
2 cups (500 ml) buttermilk
⅓ cup (75 ml) unsalted butter, melted
2 cups (500 ml) grated sharp cheddar cheese
1 jalapeño pepper, trimmed, seeded and finely chopped
4 large eggs, cooked sunny-side-up
1 green onion, finely sliced, for garnish
2 tbsp (30 ml) chopped fresh cilantro leaves
hot sauce, for garnish (optional)
1 tbsp (15 ml) grapeseed oil
1 small yellow onion, finely chopped
1 red bell pepper, finely chopped
1 small zucchini, cut into ¼-in (0.5 cm) dice
1 large carrot, cut into ¼-in (0.5 cm) dice
2 tbsp (30 ml) chili powder
½ tsp (2 ml) ground cumin
½ tsp (2 ml) dried oregano
½ tsp (2 ml) sweet or hot smoked paprika
½ tsp (2 ml) salt, plus extra for seasoning
¼ tsp (1 ml) freshly ground pepper
1 cup (250 ml) brown ale beer
1 tbsp (15 ml) tomato paste
1 x 14 oz (398 ml) can diced tomatoes
¾ cup (175 ml) canned black beans
¾ cup (175 ml) canned kidney beans
¾ cup (175 ml) canned pinto beans
½ cup (125 ml) frozen corn
1 tsp (5 ml) maple syrup (optional)
Instructions
Preheat waffle maker according to manufacturer's instructions.
In a large bowl, whisk together cornmeal, flour, sugar, baking powder, baking soda and salt.
In a separate bowl, whisk together eggs and buttermilk until well combined. Pour into flour mixture and, using a rubber spatula, fold together until just combined. Add butter, cheese and jalapeño and fold gently into batter.
Spoon batter into each section of preheated waffle iron and cook until golden brown and crisp, about 5 minutes. Continue cooking waffles until all batter is used up.
To serve, divide waffles among serving plates. Top with warm Tipsy Chili and an egg before garnishing with green onions, cilantro and a drizzle of hot sau
To make TIPSY CHILI: In a large pot, warm oil over medium heat. Add onions and cook, stirring occasionally, until starting to caramelize, about 8 to 10 minutes. Add peppers, zucchini and carrots, and cook, stirring often, for 5 minutes. Add garlic, chili powder, cumin, oregano, paprika, salt and pepper and continue to cook for another 2 minutes. Stir in beer, tomato paste, diced tomatoes, beans and corn. Allow chili to come to a simmer before covering and reducing heat to medium-low.
Allow chili to cook for 30 minutes, stirring occasionally. Remove lid and continue to cook another 15 minutes. Stir in lime juice. Taste chili and adjust seasoning with maple syrup, salt and chili powder. Makes about 5 cups (1.25 L).
Drink Pairings