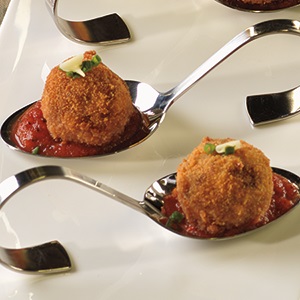 CHEESY QUINOA AND RICE ARANCINI
Ingredients
Serves 16 Arancini
1 cup (250 ml) cooked red quinoa, cooled
1 cup (250 ml) cooked short grain or Arborio rice, cooled
½ cup (125 ml) grated Gruyère
2 tbsp (30 ml) minced fresh chives
freshly ground black pepper, to taste
1 cup (250 ml) all-purpose flour
3 large egg whites, whisked
1 cup (250 ml) toasted bread crumbs
4 cups (1 L) peanut, canola or sunflower oil, for frying
14 oz (398 ml) can diced fire-roasted tomatoes, drained
1 tbsp (15 ml) tomato paste
¼ tsp (1 ml) each, salt and smoked paprika
1 generous pinch brown sugar
freshly ground black pepper
chopped fresh chives, for garnish (optional)
Parmesan shavings, for garnish (optional)
Instructions
For Arancini, in a large bowl, combine quinoa and rice, ricotta and Gruyère cheeses, chives, lemon zest and salt. Stir together. Add pepper, to taste. Refrigerate 1 hour to firm slightly, if necessary.
With wet hands, roll 1½ tbsp (22 ml) quinoa mixture into a ball. Set aside on a baking sheet lined with parchment paper. Repeat procedure until all mixture has been rolled.
Place flour, whisked eggs and bread crumbs into 3 separate shallow bowls. Dip and roll balls in flour, then in beaten egg to coat, then roll in bread crumbs. Return to baking sheet. Refrigerate for 1 hour to firm, or overnight.
For Smoky Tomato Sauce, in a saucepan, combine all ingredients, except chives and Parmesan. Stir over medium heat until slightly thickened. Add pepper and another pinch of sugar, if needed. Using a handheld blender, whirl briefly until puréed. Remove to a small bowl and set aside. Serve warm or at room temperature.
Heat oil in a deep fryer or large, heavybottomed saucepan to 375 F (190 C). Line a large baking sheet with paper towels. Add no more than 3 or 4 balls to hot oil at a time, any more and oil temperature will quickly reduce and cause balls to absorb oil rather than turn golden. Fry for about 2 minutes per side, or until golden all over. Remove with a slotted spoon to paper towel. Repeat with remaining balls until all are browned. Arancini can be made ahead. Cool at room temperature, then store in refrigerator in a tightly covered container overnight or freeze. Rewarm in hot oil for a minute or until piping hot.
Serve Arancini hot in individual spoons containing a dollop of Smoky Tomato Sauce. Sprinkle with chives and shaved Parmesan, as desired.
Drink Pairings