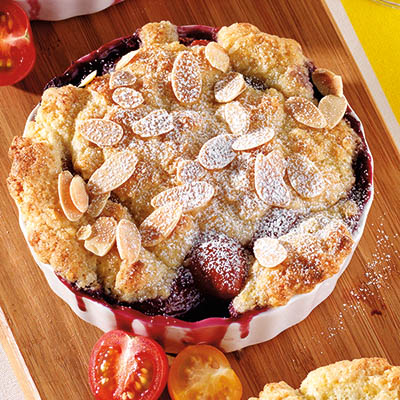 CHERRY TOMATO AND CHERRY COBBLER
Ingredients
Serves 4
3 cups (750 ml) pitted fresh or frozen cherries
1½ cups (375 ml) cherry tomatoes
1 cup (250 ml) granulated sugar, divided
2 tbsp (30 ml) cornstarch
½ tsp (2 ml) salt, divided
1 cup (250 ml) all-purpose flour
1 tsp (5 ml) baking powder
1 tsp (5 ml) finely grated lemon zest
¼ cup (60 ml) chilled unsalted butter, cut into large cubes
½ cup (125 ml) whipping cream
¼ cup (60 ml) toasted sliced almonds, for garnish
Instructions
Preheat oven to 400 F (200 C). Butter four 4-in (10 cm) ramekins and set aside.
In a large bowl, toss together cherries, tomatoes, ½ cup (125 ml) sugar, cornstarch and ¼ tsp (1 ml) salt. Divide evenly among ramekins.
In another large bowl, whisk together remaining ½ cup (125 ml) sugar, ¼ tsp (1 ml) salt, flour, baking powder and lemon zest. Add butter and using fingers, rub butter into flour until pea sized crumbs form. Pour in whipping cream and stir with a fork until a shaggy dough forms. Using a spoon, evenly dollop dough over fruit in ramekins. Place ramekins on a baking tray and transfer to oven, bake until topping is golden brown and filling is bubbling, about 20 minutes. Transfer to a wire rack and let cool for 5 minutes before serving. Garnish with a sprinkling of toasted almonds and a dusting of icing sugar.
Drink Pairings