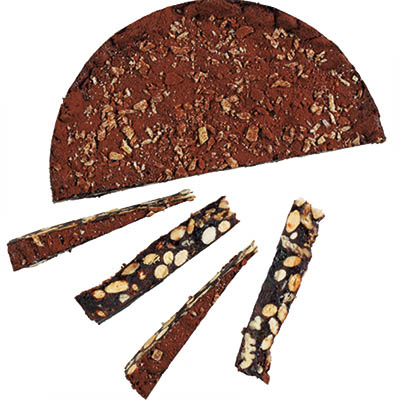 Ingredients
Serves 40 to 50 thin wedges
⅓ cup (75 ml) unsweetened, Dutch-processed cocoa, plus extra for coating pan and dusting surface
2½ cups (625 ml) coarsely chopped mixed nuts
1 cup (250 ml) coarsely chopped mixed dried fruit
¾ cup (175 ml) all-purpose flour
finely grated zest of 1 orange
1 tbsp (15 ml) ground cinnamon
2 tsp (10 ml) ground ginger
1 tsp (15 ml) fresh ground black pepper
3½ oz (100 g) bittersweet chocolate, chopped
1 cup (250 ml) granulated sugar
½ cup (125 ml) liquid honey
Instructions
Preheat oven to 325 F (165 C). Line bottom of a 9-in (23 cm) springform pan with parchment paper and spray bottom and sides with cooking spray. Dust bottom and sides of pan with cocoa powder.
In a large bowl, combine cocoa, nuts, dried fruit, flour, orange zest and seasonings. Gently toss to evenly coat.
Melt chocolate in microwave until almost melted, stir until smooth. Set aside.
In a saucepan, combine sugar and honey. Fit pan with a candy thermometer and heat over medium-high until sugar is melted and bubbling and temperature reads 240 F (115 C). Pour hot syrup over nut mixture along with melted chocolate. Stir together. When cool enough to handle, wet hands and knead to completely blend. Mixture will be shiny, sticky and stiff.
Transfer to prepared pan. Firmly press mixture into the corners and pat out the top, completely smooth the surface. Bake in centre of oven for 30 to 35 minutes. Panforte should be firm, but still have a bit of give to it when pressed. Do not overbake, or it will be too hard to cut when cooled. Run a metal spatula around inside of pan to loosen. Remove sides of pan and cool completely. Remove bottom of pan and peel off parchment paper.
Dust top of panforte with cocoa and cut into thin wedges or squares. Can be stored at room temperature for several weeks.
Drink Pairings