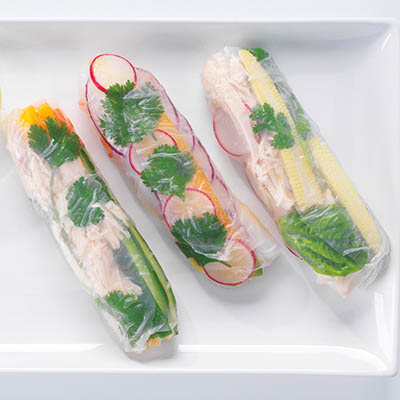 CHICKEN, JICAMA, PAPAYA AND PICKLED GINGER SALAD ROLLS
Ingredients
Serves 8
2 oz (60 g) dried bean vermicelli noodles
8 X 8-inch (20 cm) rice-paper rounds, plus more in case of tearing
3 to 4 romaine leaves, cored and finely shredded, about 2-inches (5 cm) long
¼ cup (60 ml) pickled ginger, dried and cut into fine julienne
1 ripe papaya, peeled, seeded and cut into fine julienne, 2-inches (5 cm) long
½ English cucumber, cored seeded and cut into ¼-inch (0.5 cm) matchstick
6 oz (180 g) peeled jicama root, cut into ¼-inch (0.5 cm) matchstick
handful cilantro sprigs, rinsed and dried well
½ cup (125 ml) shredded carrot
2 cups (500 ml) shredded rotisserie chicken meat
Instructions
Bring a medium saucepan of water to a boil and add noodles. Cook until just tender, about 3 minutes. Drain in strainer and rinse under cold water. Drain well. Set aside.
Place a clean tea towel or a double thickness of paper towel on a work surface. Fill a shallow baking pan with warm water. Soak a rice paper round in warm water until pliable, about 5 to 10 seconds. Carefully transfer to tea towel or paper towel lined work surface.
Arrange alternating on the bias, the shredded romaine, julienned pickled ginger and papaya in a row across middle bottom third (the part nearest you).
Spread a small amount of the noodles on top of the shredded ingredients and arrange a few cucumber and jicama matchsticks, a few cilantro sprigs, basil leaves, shredded carrots and chicken.
Fold bottom of rice paper over filling and begin rolling up tightly, stopping at halfway point. Arrange a few more cilantro sprigs, then fold in ends and continue rolling.
Transfer roll, seam side down, to a plate and cover with dampened paper towels. Repeat making 7 more rolls in the same manner and serve with Peanut Dipping Sauce or any other desired sauce.
Drink Pairings