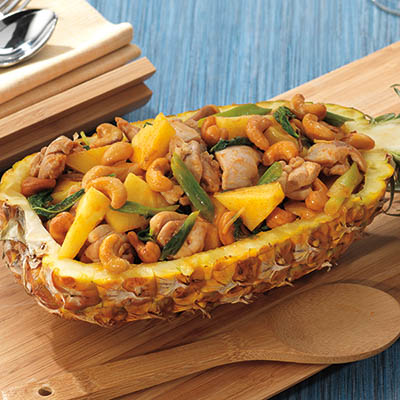 CHICKEN AND CASHEWS IN PINEAPPLE
Ingredients
Serves 4
2 tbsp (30 ml) red curry paste
½ cup (125 ml) coconut milk
¼ cup (60 ml) chicken stock
1½ tbsp (22 ml) fish sauce
2 tbsp (30 ml) palm or brown sugar
2 tbsp (30 ml) canola oil
1 tbsp (15 ml) finely chopped ginger
1 small cooking onion, cut into ½-in (1.25 cm) dice
2 green onions, cut into 1-in (2.5 cm) pieces
1 lb (500 g) skinless, boneless chicken thighs or breast, cut into 1-in pieces (2.5 cm)
½ cup (125 ml) toasted cashews
1 cup (250 ml) pineapple tidbits
½ cup or small bunch fresh Thai basil (or regular basil)
½ pineapple, hollowed out, optional
Instructions
Mix together red curry paste, coconut milk, chicken stock, fish sauce and palm or brown sugar.
Heat oil in a wok or skillet over medium high heat. Add the ginger, onion and green onion and sauté until fragrant.
Add chicken and sauté until cooked, about 8 to 10 minutes.
Add curry mixture and stir well to combine. Bring to a boil, remove from heat and stir in cashews, pineapple and basil and cook until just warm and basil is wilted. Serve on a warm platter or a hollowed out pineapple half.
Drink Pairings