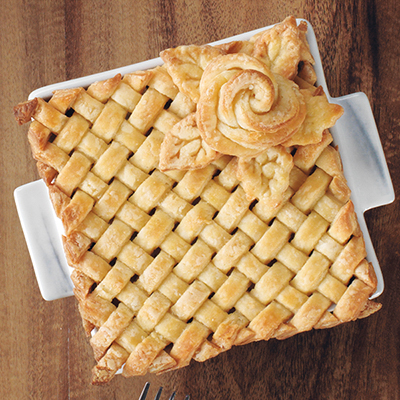 CHICKEN AND LEEK POT PIES
Ingredients
Serves 4
4 chicken breasts, boneless, skinless
1 tsp (5 ml) salt, divided
½ cup (125 ml) oil, divided
2½ cups (625 ml) button mushrooms
1 cup (250 ml) finely chopped shallots
1½ cups (375 ml) finely chopped celery
3 cups (750 ml) finely sliced leek, white portion only
½ tsp (2.5 ml) white pepper
½ cup (125 ml) chicken stock
2 tbsp (30 ml) Dijon mustard
1½ tbsp (22 ml) white vinegar
2 lbs (1 kg) pie pastry dough
Instructions
Season chicken breasts with ½ tsp (2.5 ml) salt and pepper. In a large frying pan or wok over medium-high heat, fry seasoned chicken in 2 tbsp (30 ml) oil, until fully cooked through to an internl temperature of 165 F (74 C). Remove from pan and set aside to cool. Cut into 1 x 1-in (2.5 x 2.5 cm) chunks and reserve along with any juices.
In same pan, add another 2 tbsp (30 ml) oil and fry mushrooms, about 5 minutes. Remove from heat and add to chicken.
Using same pan, heat remaining ¼ cup (60 ml) oil and sauté shallots, garlic, celery and leeks, until shallots become translucent. Add butter and stir until melted. Evenly sprinkle flour and continue cooking for another minute. Season with ½ tsp (2.5 ml) salt and white pepper.
In a small bowl, stir together milk, chicken stock, Dijon mustard and Tabasco. Add to leek mixture and stir. Mixture will thicken within seconds. Add chicken and mushrooms along with any accumulated juices. Season with paprika and nutmeg. Stir in vinegar, cover frying pan or wok and remove from heat. Set aside to cool.
Roll out pastry dough to about ¼-in (0.5 cm) thick and cut in to ½-in (1.25 cm) strips to form lattice to cover top of serving dishes. Arrange on a parchment-lined baking tray. Alternatively, simply cut pastry into shape of serving dishes and poke holes on surface with a fork. Note: cut about ¼-in (0.5 cm) more than edge of dish as pastry will shrink when baked. Reuse scraps to make leaves or flowers, as desired. Chill for at least 30 minutes.
Preheat oven to 375 F (190 C).
Lightly whisk egg and water to create egg wash and brush over surface of pastry. Bake for about 20 to 25 minutes until golden brown. When ready to serve, reheat chicken filling and evenly divide into four 4 x 4-in (10 x 10 cm) square dishes that are about 1½ to 2-in (3.75 to 5 cm) deep. Cover with baked pastry and serve.
Drink Pairings