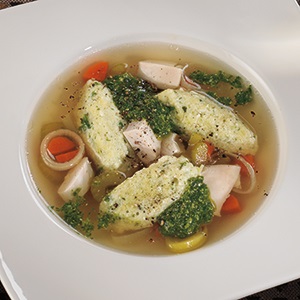 CHICKEN AND RICOTTA DUMPLING SOUP
Ingredients
Serves 6
3 medium carrots, divided
3 lb (1.5 kg) whole chicken, rinsed and patted dry
1 large cooking onion, unpeeled, quartered
1 head garlic, halved crosswise
1 leek, trimmed, white and light green part thinly sliced
5 oz (140 g) kale, stems removed, blanched and squeezed dry
1 cup (250 ml) fresh basil leaves
½ cup (125 ml) finely grated Parmesan
½ cup (125 ml) extra-virgin olive oil
salt and freshly ground black pepper, to taste
1½ cups (375 ml) ricotta cheese
⅔ cup (150 ml) finely grated Parmesan, plus extra for garnish
⅔ cup (150 ml) all-purpose flour
salt and freshly ground black pepper
Instructions
For Soup, peel and chop carrots and celery. Place whole chicken in a large, heavybottomed saucepan along with half the chopped carrots and celery. Add onion, bay leaves, thyme, parsley, garlic, peppercorns and water. Place pan over high heat and bring just to a boil. Reduce heat to medium and simmer stock, with lid ajar, for 1½ hours.
To make Pesto, place blanched kale, basil, pine nuts, Parmesan, oil, salt and pepper in a food processor. Pulse until still slightly chunky, scraping down sides of processor as needed. Transfer to a container, cover with plastic wrap pressed directly onto pesto and set aside.
To make Dumplings, in a medium bowl, stir together ricotta, Parmesan, flour, eggs, 1½ tbsp (22 ml) Pesto and a pinch of salt and pepper until a sticky dough forms. Cover bowl with plastic wrap and refrigerate until ready to use.
Strain soup mixture, reserving stock and chicken. Return stock to a large, clean saucepan and bring to a boil over high heat. Chop chicken, discarding skin and bones. Set meat aside in a separate bowl. Add remaining chopped carrot, celery and leek to boiling stock. Reduce heat to medium. Drop tablespoons of dumpling mixture into soup and cook until vegetables are tender and dumplings float, about 8 minutes.
To serve, divide reserved chicken among warmed bowls. Ladle over soup and top with a dollop of pesto and garnish with extra Parmesan, if desired. Serve immediately.
Drink Pairings