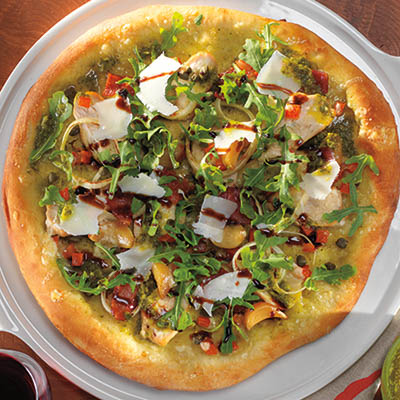 CHICKEN AND ROASTED GARLIC PIZZA WITH BASIL OIL
Ingredients
Serves 6
2 cups (500 ml) all-purpose flour
1½ tsp (7 ml) quick-rising dry yeast
¾ cup (175 ml) hot water (120° F / 49° C)
2 tsp (10 ml) extra-virgin olive oil
cornmeal, for dusting pizza pan
2 cups (500 ml) tightly packed fresh basil
¾ cup (175 ml) extra-virgin olive oil
1 tbsp (15 ml) fresh lemon juice
salt and freshly ground black pepper
1 boneless, skinless chicken breast
salt and freshly ground black pepper
3 tbsp (45 ml) olive oil, divided
4 large tomatoes, seeded and diced
4 strips bacon, cooked and chopped
½ yellow onion, shaved thinly into rings and separated
⅓ cup (75 ml) capers, rinsed and drained
½ cup (125 ml) shaved Parmesan
Instructions
To make PIZZA DOUGH: Pour flour, yeast and salt into a food processor and pulse to mix. With machine running, slowly pour in hot water and oil through feed tube. Process for 1 minute or just until a ball forms. Continue processing for 35 to 45 seconds to knead dough
With floured hands, shape dough into a smooth ball. Place in large greased bowl, turning dough to grease all over. Cover and let rise in warm draft-free place until doubled, about 1 hour. Dough can be wrapped in a plastic bag and refrigerated for up to 8 hours, or frozen for up to a month. Thaw in refrigerator.
To make BASIL OLIVE OIL: Blanch fresh basil in a saucepan with water and immediately drain and plunge into cold water. Drain and squeeze out excess water.
Place in a blender with olive oil and whirl until smooth. Add lemon juice and salt and pepper to taste. Seal tightly in a glass bottle. Can be stored in refrigerator for several days.
Bring dough to room temperature before using. Without punching it down, turn dough onto a lightly floured surface. It's okay if dough deflates. Just don't work it or knead it, because that will make stretching it more difficult.
Preheat oven to 475 F (240 C). Roll out dough on a lightly floured surface to a 12 or 14-in (30 to 35 cm) round stretching edges with your fingertips. Place on a pizza pan lightly dusted with cornmeal. Brush top of dough with olive oil and bake in oven for 5 minutes. Remove. Set aside.
Season chicken with salt and pepper. Heat 2 tbsp (30 ml) olive oil in frying pan over medium-high heat. Add chicken and lightly brown on both sides. Add a splash of water, cover and reduce heat to medium. Cook for 7 minutes or until chicken is cooked through. Remove and cut or shred into bite-sized pieces.
Lightly brush pizza crust generously with Basil Olive Oil. Evenly scatter with cooked chicken, tomatoes, bacon, onion rings, roasted garlic, capers and half the Parmesan. Bake in preheated oven for 10 to 15 minutes or until done as preferred.
Scatter with arugula and additional Parmesan. Drizzle with some Balsamic Reduction Sauce and a little more Basil Olive Oil.
Drink Pairings