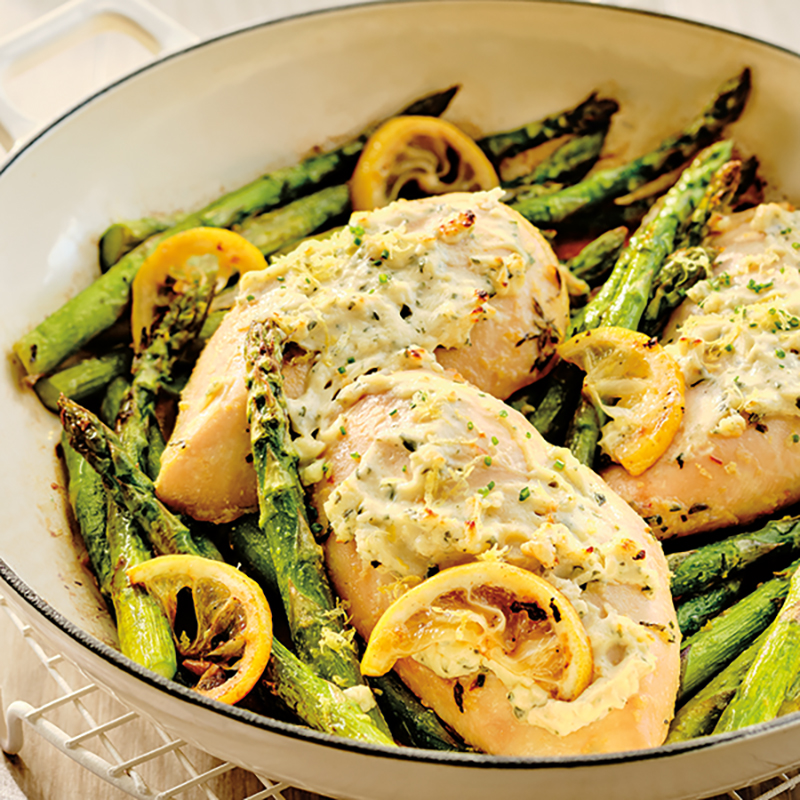 Chicken & Asparagus Bake
Life can be hard, making dinner shouldn't be! These are very simple spring meals.
Ingredients
Serves 3 to 4
3 garlic cloves, roughly chopped
2 tsp (10 ml) chicken bouillon paste
3 tbsp (45 ml) extra-virgin olive oil, divided
4 sprigs thyme, leaves only
2 sprigs oregano, leaves only
3 to 4 boneless, skinless chicken breasts
2 tbsp (30 ml) butter, melted
salt and pepper, to taste
2 bunches asparagus, trimmed
1½ oz (45 g) Garlic & Fine Herbs Boursin, room temperature
Instructions
In a medium-sized bowl, mix garlic, bouillon paste, 1 tbsp (15 ml) olive oil, thyme, oregano and zest and juice of 1 lemon. Add chicken and toss to coat. Marinate for at least 30 minutes or up to 2 hours.
Preheat oven to 375 F (190 C). Coat an oven-safe baking dish with remaining olive oil and add chicken breasts. Drizzle with melted butter, season with salt and pepper. Pour wine into bottom of dish. Bake chicken for 15 minutes.
Cut remaining lemon in half. Set half aside for later and slice other half into thin slices. After 15 minutes, add asparagus to dish and toss to coat in cooking juice. Season asparagus with salt and pepper. Spread Boursin over chicken breasts. Add sliced lemon throughout dish and bake for another 10 minutes or until chicken has reached an internal temperature of 165 F (73 C).
Squeeze remaining lemon juice over chicken before serving.
Drink Pairings