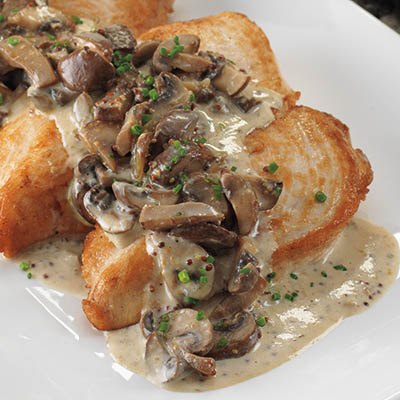 CHICKEN BREASTS WITH MUSHROOM SAUCE
Ingredients
Serves 4
2 tsp (10 ml) vegetable oil
4 boneless, skinless chicken breasts
freshly ground pepper, to taste
2 thyme sprigs, leaves removed and chopped
2 cups (500 ml) sliced crimini mushrooms
½ cup (125 ml) white wine
2 tbsp (30 ml) grainy mustard
2 cups (500 ml) chicken stock
1 cup (250 ml) whipping cream
chopped chives, for garnish
Instructions
In a heavy-bottomed frying pan, heat oil over high heat. Season chicken with salt and pepper then sear until golden brown on both sides, about 4 to 5 minutes per side. Remove chicken and set aside.
Turn heat down to medium, to pan add onion, garlic and thyme and cook for about 2 minutes. Add mushrooms and season with more salt and pepper. Cook until mushrooms have released all their juices and have started to turn golden brown.
Add wine and cook until pan is dry, then add grainy mustard and chicken stock and stir. Once stock starts to simmer, add chicken breasts and push them down into mushrooms. Cover pan, cook until chicken reaches internal temperature of 155 F (68 C). Remove chicken and set aside.
Continue cooking sauce until liquid has reduced by half. Add cream and reduce until sauce has thickened. Add chicken breasts back into sauce and reheat.
To serve, place chicken on a platter and pour sauce over, garnish with chopped chives. Serve with rice or bread and vegetables.
Drink Pairings