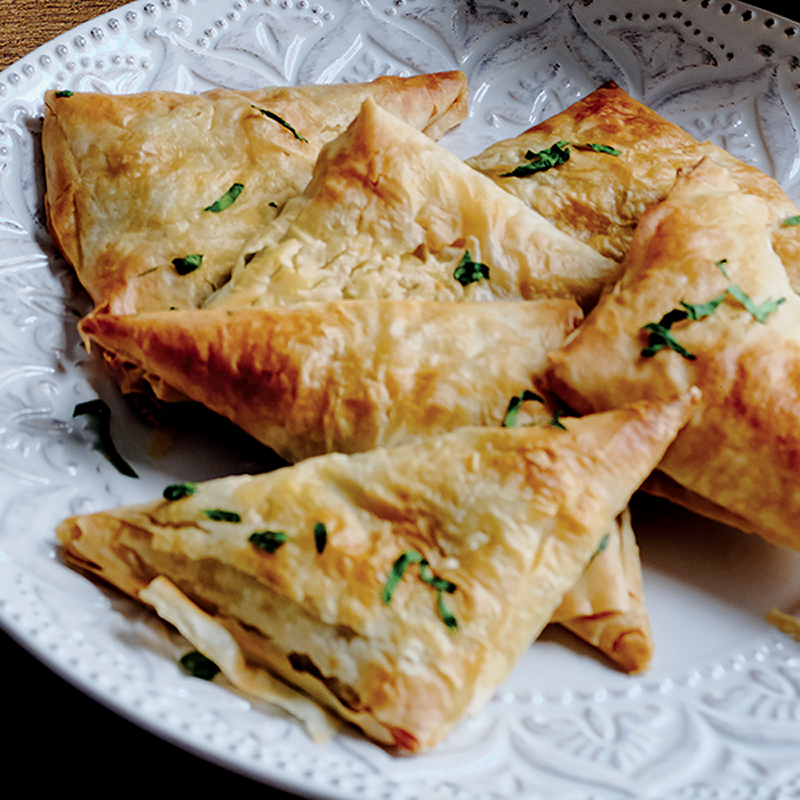 Chicken Briouats served with Apricot Chutney
Ingredients
Serves 12 briouats
16 oz (500 g) ground chicken
1 tsp (5 ml) ground cumin
½ tsp (2.5) ground turmeric
1 tsp (5 ml) ground cinnamon
½ tsp (2.5 ml) ground coriander
½ tsp (2.5 ml) ground ginger
¼ tsp (1 ml) ground nutmeg
2 tsp (10 ml) honey, divided
salt and pepper, to taste
½ cup (125 ml) butter, plus extra if needed
8 phyllo sheets, thawed if frozen
1 tbsp (15 ml) minced fresh ginger
¼ cup (60 ml) red wine vinegar
1 cup (250 ml) dried apricots
Instructions
Heat oil in a large skillet over medium-high heat. Add onion and garlic and sauté for 6 to 8 minutes, or until soft. Add chicken and ground spices, and use a wooden spoon to break apart chicken and mix in spices as it cooks. Once chicken is fully cooked, about 10 minutes, add 1 tsp (5 ml) honey and season with salt and pepper. Remove from heat and set aside to cool completely.
Preheat oven to 400 F (200 C) and line a baking sheet with parchment paper. In a small heatproof bowl, combine butter and remaining 1 tsp (5 ml) honey. Microwave on high for 15 to 30 seconds, until fully melted. Lay a sheet of phyllo on a clean, dry surface. Using a pastry brush, brush entire sheet with butter mixture. Lay a second sheet on top and repeat. With the long edge of the sheet parallel to you, cut sheet into three 5-in (12 cm) vertical strips. Place a heaping spoonful of chicken on the bottom right corner of each strip. Fold the bottom right corner up and over to the left edge of the strip to form a triangle. Now take the bottom left corner and fold it up and over to the right edge of the strip. Repeat folding steps until the whole strip is used up, trimming excess pastry and sealing with melted butter if necessary. Repeat with remaining pastry and chicken.
To make the chutney, Heat oil in a medium saucepan over medium-high heat. Add onion and sauté for 6 to 8 minutes, or until soft. Add remaining ingredients, reduce heat to low and cook for 10 to 15 minutes, or until apricots are rehydrated and soft. Remove from heat, remove cinnamon stick and let cool slightly. Transfer to a small blender or food processor and blend until smooth. Transfer to a serving dish and refrigerate until ready to serve. Will keep in refrigerator in an airtight container for up to 1 week.
Place briouats on lined baking sheet. Brush each with remaining butter mixture until lightly coated all over. Bake for 15 to 20 minutes, or until golden brown. Serve warm, with Apricot Chutney.
Drink Pairings