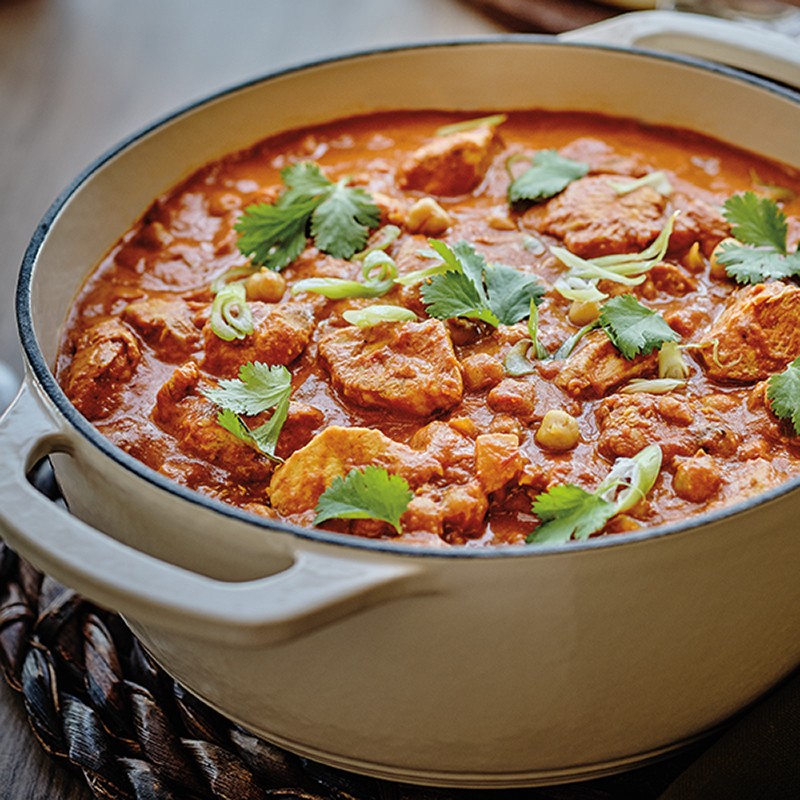 Chicken Chickpea Curry with Herby Yogurt and Naan
This is a perfect mid-week meal, easy to make and easy to clean up.
Ingredients
Serves 4
1 tbsp (15 ml) grated ginger
6 garlic cloves, minced, divided
1½ lbs (750 g) chicken breast, cut into 1-in (2.5 cm) cubes
2 tbsp (30 ml) curry powder
1 tsp (5 ml) garam masala
1 x 28 oz (796 ml) can crushed tomatoes
1 x 14 oz (398 ml) can coconut milk
1 x 19 oz (540 ml) can chickpeas, drained and rinsed
salt and pepper, to taste
1 cup (250 ml) plain Greek yogurt
½ cup (125 ml) chopped mint leaves
½ cup (125 ml) chopped cilantro leaves
Instructions
In a large saucepan with a lid, heat oil over medium-high. Add onions and sauté until translucent, about 8 minutes. Add ginger, 4 minced garlic cloves and chicken. Cook for an additional 8 minutes, stirring occasionally until chicken has started to brown. Add spices, sugar, crushed tomatoes, coconut milk and chickpeas. Season with salt and pepper and reduce heat to low. Cover with a lid and let simmer for 30 minutes.
To make herby yogurt, in a small mixing bowl, combine yogurt, lime juice, mint and remaining 2 cloves of minced garlic. Season with salt and pepper to taste.
To serve, top with a dollop of yogurt sauce, chopped cilantro and warmed naan bread.
Drink Pairings