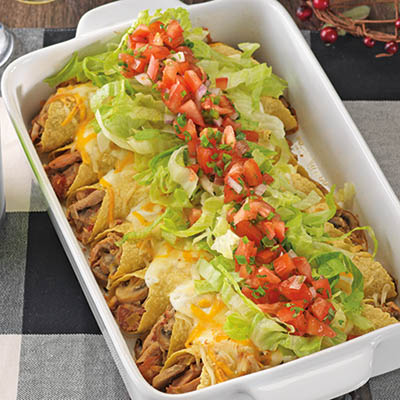 Ingredients
Serves 4 to 6
1 lb (500 g) button mushrooms, sliced
1 x 4 oz (125 ml) can green chilies, drained, coarsely chopped
2 tbsp (30 ml) chili powder
1 x 14 oz (398 ml) can stewed or chopped tomatoes
1 store-bought roasted chicken, skinned and meat shredded or diced
½ tsp (2 ml) freshly ground pepper
3 cups (750 ml) sour cream, divided
8 oz (250 g) Mexican cheese blend (shredded Monterey Jack and cheddar blend)
finely chopped iceberg lettuce, for garnish
PICO DE GALLO (SALSA FRESCA):
4 medium tomatoes, ½-in (1.25 cm) diced
1 garlic clove, finely minced
½ white or red onion, finely chopped
1 fresh serrano or jalapeño pepper, seeded and finely chopped
½ cup (125 ml) cilantro, finely chopped
2 green onions, finely chopped
salt and freshly ground pepper, to taste
Instructions
Heat olive oil in a skillet over medium-high heat. Add garlic and onions and sauté for 1 minute. Add mushrooms and sauté until soft. Add green chilies, chili powder, tomatoes, chicken, salt and pepper. Mix well. Bring to a boil. Reduce heat to low and simmer for a couple minutes, to allow some liquid to evaporate. Stir in ½ cup (125 ml) sour cream.
Preheat oven to 450 F (230 C).
Spread 1 cup (250 ml) sour cream in the bottom of a 9 x 13-in (3.5 L) baking dish. Wrap tortillas in a clean tea towel and microwave for 1 minute, to soften. Alternatively, fry a tortilla in a skillet over medium heat in about ¼ to ½-in (0.5 to 1.25 cm) of vegetable oil for a few seconds on each side, or until softened. Place on a paper towel to drain off any excessive oil.
Spread about ¼ cup (60 ml) of the chicken mixture along the centre of tortilla; fold sides over filling and place it seam-side down on sour cream layer in baking dish. Repeat with remaining tortillas and chicken mixture.
Spread remaining 1½ cups (375 ml) sour cream over filled enchiladas and then sprinkle with cheese. Bake for 10 to 15 minutes, or until cheese is melted and enchiladas are thoroughly heated through. Serve with finely chopped iceberg lettuce and Pico de Gallo.
To make PICO DE GALLO (SALSA FRESCA): In a bowl, combine all ingredients together until well mixed. Season to taste. Refrigerate for 30 minutes.
Drink Pairings