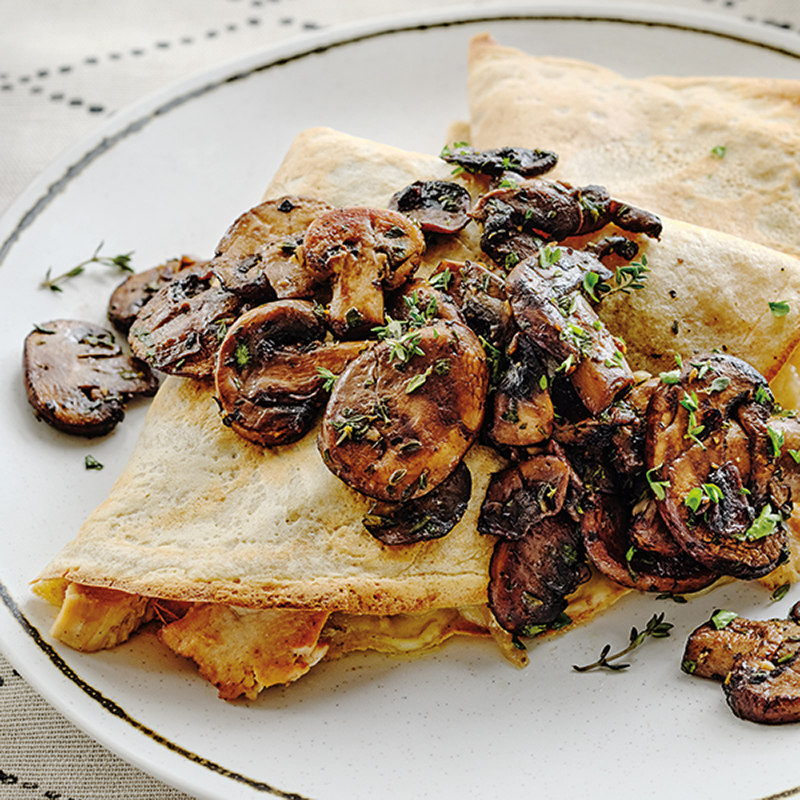 Chicken Florentine Crêpes with Herbed Mushrooms
Ingredients
Serves 8 crêpes
1 large onion, thinly sliced
2 tbsp (30 ml) vegetable oil
3 garlic cloves, finely chopped
2 boneless, skinless chicken breasts, sliced ¼-in (0.5 cm) thick
salt and pepper, to taste
4 cups (1 L) fresh spinach leaves, washed, dried and roughly chopped
1 tbsp (15 ml) white vinegar
Buckwheat Crêpes, make ahead, recipe follows
¾ cup (175 ml) shredded Monterey Jack cheese
¾ cup (175 ml) shredded Provolone cheese
Herbed Mushrooms, make ahead, recipe follows
Instructions
In a large skillet over medium-high heat, fry onion in oil until translucent. Add garlic and continue cooking for 2 minutes.
Add chicken and sauté until fully cooked, about 5 minutes, stirring regularly. Season with salt and pepper to taste.
Add spinach and increase heat to high for about 1 minute, or just until spinach wilts, then add vinegar, stir, cover and remove from heat. Set aside.
In a small bowl, mix together cheeses. Place 1 buckwheat crêpe on a large plate. Sprinkle ⅛ of cheese over surface. Spoon ⅛ of chicken and spinach mixture onto ¼ of crêpe. Fold crêpe in half over filling, then fold in half again into a triangle. Transfer to a shallow baking dish. Repeat with remaining crêpes, placing filled crêpes in a single layer in baking dish. Cover and seal with foil, poking a few holes in foil with a fork. At this point, crêpes can be refrigerated for up to 1 day. Bring to room temperature before baking.
To serve, preheat oven to 350 F (180 C). Bake prepared crêpes, covered, for about 15 to 20 minutes, or until cheese has melted. Remove from oven and serve with Herbed Mushrooms on top.
Drink Pairings