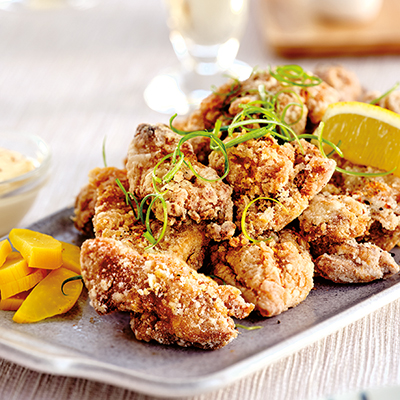 Ingredients
Serves 4 to 6
1 lb (454 g) skin-on, boneless chicken thighs, cut into 2-in (5 cm) pieces
½ tsp (2.5 ml) sesame oil
½-in (1.25 cm) piece ginger, peeled and finely grated
vegetable oil, for frying
½ cup (125 ml) potato starch
3 tbsp (45 ml) mochiko (sweet rice) flour
1 tbsp (15 ml) shichimi togarashi spice mix
julienned green onion, for garnish
¼ cup (60 ml) Kewpie ( Japanese) mayonnaise, to serve
½ lemon, cut into wedges, to serve
Japanese takuan pickles, to serve (optional)
Instructions
In a large bowl, mix chicken together with tamari, sesame oil, sake, mirin and ginger. Allow to marinate in refrigerator for at least 30 minutes, ideally 1 to 2 hours.
In a wok or high-sided, heavy-bottomed saucepan, heat 2-in (5 cm) vegetable oil over medium-high heat until it reaches 375 F (190 C). Meanwhile, prepare a wire cooling rack with a sheet pan underneath.
Drain chicken in a colander and discard marinade. In a small bowl, combine potato starch and mochiko flour. Coat chicken in starch mix, shaking off excess, then set aside on a plate.
Fry chicken in small batches, turning halfway through, until golden brown and reaches an internal temperature of 165 F (74 C), about 5 to 7 minutes per batch.
Sprinkle with shichimi togarashi, then garnish with green onion and serve with mayonnaise, lemon wedges and pickles (if using).
Drink Pairings