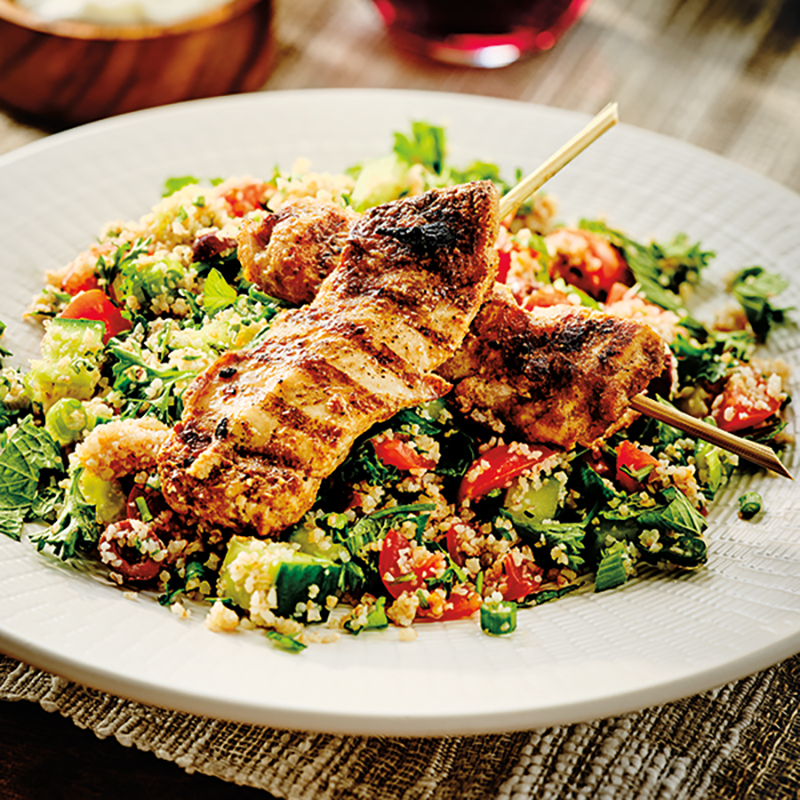 Chicken Kebabs with Tabbouleh & Garlic Toum
Light Middle Eastern Fair
Ingredients
Serves 3 to 4
1 cup (250 ml) peeled garlic cloves
¼ cup (60 ml) lemon juice
3 cups (750 ml) sunflower oil
6 chicken thighs, cut in half lengthwise
2 cups (500 ml) chicken or vegetable stock
1 cup (250 ml) fine bulgur wheat
2 cups (500 ml) diced cucumber
2 cups (500 ml) diced cherry tomatoes*
1 large bunch curly parsley, chopped
1 bunch of mint, leaves only, chopped
5 green onions, finely chopped
½ cup (125 ml) pitted, chopped Kalamata olives
salt and pepper, to taste
6 wooden barbecue skewers, soaked in water for at least 30 minutes
Instructions
To make garlic toum sauce, blend garlic in a food processor on high until finely minced. Using a spatula, scrape down sides of bowl and add 1 tbsp (15 ml) lemon juice. With food processor on medium speed, slowly stream in about 1 cup (250 ml) oil. Continue to alternate between lemon juice and oil until all is incorporated and mixture has a fluffy, mayonnaise-like consistency. Season to taste with salt and refrigerate**.
In a small bowl, marinate chicken thighs with 1 tbsp (15 ml) garlic toum and cumin. Refrigerate for 1 hour or until ready to cook. Once ready, thread 2 halves of chicken thigh onto a skewer. Repeat with remaining chicken.
Preheat a barbecue grill to medium-high. Grill chicken skewers for 10 minutes or until internal temperature of 165 F (75 C) is reached.
In a saucepan, over medium-high heat, bring stock to a boil. Add bulgur and gently stir. Cover with a lid and allow to cook for about 5 minutes, or until all liquid is absorbed. Remove from heat, but keep lid on for 10 more minutes. Using a fork, fluff bulgur mixture and set aside to cool.
To make tabbouleh, in a large salad bowl, place cucumbers, tomatoes, parsley, mint, green onions and olives. Add cooled bulgur and dress with lemon juice, olive oil and salt and pepper, to taste.
Serve tabbouleh alongside chicken skewers with a dollop of garlic toum sauce.
* Salt to remove liquid, rinse and allow to dry
** It will keep for up to 1 week refrigerated.
Drink Pairings