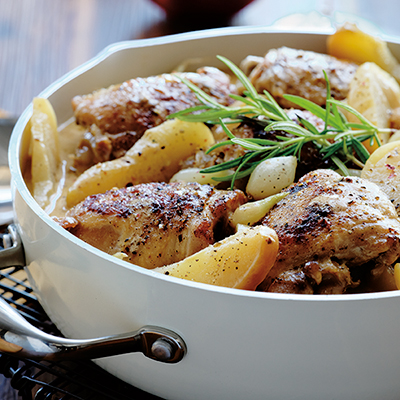 Ingredients
Serves 4
3 lbs (1.36 kg) bone-in, skin-on chicken thighs, patted dry
sea salt and coarsely ground black pepper, to taste
½ cup (125 ml) Calvados or cognac
2 tbsp (30 ml) apple cider vinegar
1 cup (250 ml) unfiltered, fresh-pressed apple cider
2 Honeycrisp or Granny Smith apples, cored and cut into ¼-in (0.5 cm) wedges
¼ cup (60 ml) crème fraîche
fresh rosemary, for garnish
Instructions
Season chicken well with salt and pepper. In a large Dutch oven or heavy sauté pan, heat oil over medium-high heat until it shimmers. Brown chicken, skin-side down, until deep golden, 6 to 8 minutes. Flip chicken and sear until other side is golden, another 3 minutes. Leaving chicken in pan, carefully remove and discard all the fat from pan.
Over medium-high heat, carefully add Calvados or cognac to pan, and when sizzling subsides, add apple cider vinegar. Cook for 1 minute, then stir in cider. Add pearl onions and apples, tucking them in amongst chicken pieces. Bring mixture to a full boil, then immediately reduce heat to low. Stir gently and cover with a tight-fitting lid. Cook, checking occasionally to ensure liquid is maintaining a low gentle simmer and not boiling. Continue until chicken is cooked through and apples and onions are fork-tender, 35 to 40 minutes.
Remove chicken, onions and apples to a dish and cover loosely to keep warm. Stir crème fraîche into remaining liquid in pan. Over medium-high heat, simmer sauce until thickened and reduced by half, about 6 minutes. Pass sauce through a fine mesh sieve and return it to pan, along with chicken, onions, apples and any liquids that have accumulated in dish. Gently reheat and season with salt and pepper to taste. Garnish with rosemary and serve immediately.
Drink Pairings