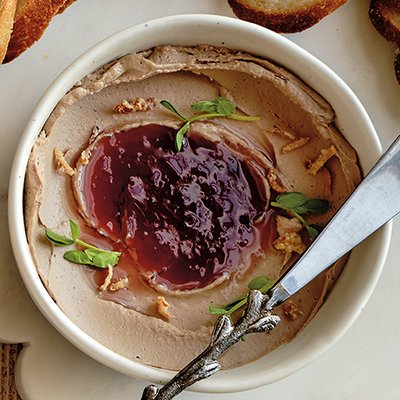 Chicken Liver Pâté with Cognac & Redcurrant Jelly
Ingredients
Serves 1½ cups (375 ml)
½ lb (227 g) chicken livers, veins, fat and silver skin removed
7 tbsp (105 ml) butter, room temperature, divided
1 medium shallot, finely diced (about 1¼ oz/ 35 g)
2 tbsp (30 ml) Cognac or brandy
½ tsp (2.5 ml) maple syrup
¼ cup (60 ml) whipping cream
3 tbsp (45 ml) redcurrant jelly
pea shoots and crispy shallots, for garnish
sliced baguette, to serve
Instructions
Soak livers in milk for at least 1 hour, or ideally overnight.*
Drain and discard milk, then dry livers with paper towel.
In a sauté pan, melt 2 tbsp (30 ml) butter over medium-high heat. Add livers and cook until golden brown, about 2 minutes per side. Livers should still be pink in middle. Remove from pan and set aside.
Turn heat down to low and add shallot, thyme and salt. Cook until softened, about 1 to 2 minutes. Add livers back to pan, along with Cognac and maple syrup. Cook until liquid has reduced by half, about 1 to 2 minutes. Remove and discard thyme sprig.
Transfer chicken liver mixture to a high-speed blender and add cream. Blend on high, adding remaining 5 tbsp (75 ml) butter, 1 tbsp (15 ml) at a time, until mixture is smooth and butter is fully incorporated.
Pass pâté through a sieve, discarding any solids, then transfer to a glass container with an airtight lid. Press a piece of plastic wrap directly onto surface of pâté, then cover with lid. Refrigerate until firm and chilled, for at least 2 hours, or overnight.
When ready to serve, spread pâté into a small bowl and make a well in middle with a spoon. Melt redcurrant jelly in a small saucepan over low heat and pour jelly into well. Transfer pâté to refrigerator and allow jelly to set, about 5 minutes. Garnish with pea shoots and crispy shallots and serve with sliced baguette.
* The longer the soaking time, the mellower the liver flavour will be.
Drink Pairings