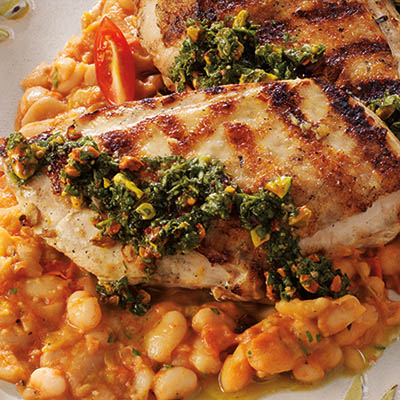 CHICKEN WITH PISTACHIO GREMOLATA
Ingredients
Serves 4
2 garlic cloves, finely grated
4 boneless chicken breasts, skin on
¼ cup (60 ml) flat-leaf parsley, finely chopped
10 mint leaves, finely chopped
10 basil leaves, finely chopped
½ garlic clove, finely grated
3 anchovies, packed in oil, finely chopped
1 tsp (5 ml) grainy mustard
2 tbsp (30 ml) champagne vinegar
1 tsp (5 ml) liquid honey
2 tbsp (30 ml) toasted pistachios, roughly chopped
salt and freshly ground pepper, to taste
1 small leek, white part only, washed and thinly sliced
1 garlic clove, finely chopped
½ cup (125 ml) cherry tomatoes, halved
1 tsp (5 ml) champagne vinegar
3 tbsp (45 ml) white wine, such as Pinot Gris
1 x (398 ml) can cannellini beans, drained
Instructions
To marinate chicken, in a large mixing bowl combine lemon, olive oil, garlic, salt and pepper. Add chicken and evenly coat in mixture. Cover and marinate overnight.
Meanwhile, prepare PISTACHIO GREMOLATA: In a bowl, mix all ingredients together adding salt and pepper to taste. Cover and refrigerate.
When ready to cook, bring chicken to almost room temperature, about 30 minutes before cooking. Brush barbecue grill with oil. Preheat grill to medium-high heat.
While chicken is resting, prepare CREAMY CANNELLINI BEANS: Heat olive oil and butter in a medium-sized saucepan over medium heat. Add leek, garlic and salt and cook until leek has softened. Add thyme, cherry tomatoes, champagne vinegar, white wine and cannellini beans. Cover and cook for 15 to 20 minutes or until flavours have blended. Add salt and pepper to taste. Set aside and cover to keep warm.
While beans are cooking, grill marinated chicken for 5 to 6 minutes on both sides, or until cooked through and juices run clear. Internal temperature should register 165 F (75 C) when tested with a meat thermometer.
To serve, add a scoop of cannellini beans to a serving plate. Top with Grilled Chicken and Pistachio Gremolata. Serve alongside Grilled Asparagus with Modern Sauce Gribiche, if desired.
Drink Pairings