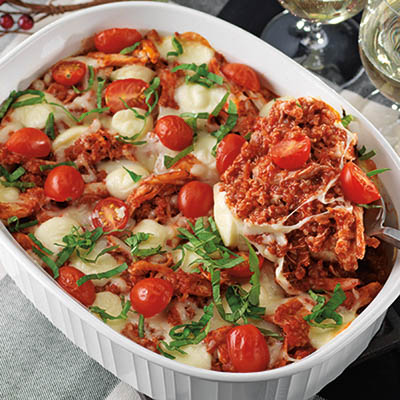 CHICKEN QUINOA BAKE WITH TOMATO, BASIL AND MOZZARELLA
Ingredients
Serves 4 to 6
1 medium onion, finely chopped
1 cup (250 ml) uncooked quinoa
2 cups (500 ml) chicken stock
2 cups (500 ml) crushed tomatoes
2 tbsp (30 ml) tomato paste
1 tbsp (15 ml) balsamic vinegar
½ tsp (2 ml) dried red chili flakes
salt and freshly ground pepper, to taste
3 cups (750 ml) ½-in (1.25 cm) diced rotisserie or cooked chicken
½ cup (125 ml) freshly grated Parmesan
1 cup (250 ml) shredded mozzarella cheese, divided
1 cup (250 ml) baby bocconcini, about 1-in (2.5 cm), halved
1 cup (250 ml) halved grape tomatoes
1 handful fresh basil, chopped, for garnish
Instructions
Preheat oven to 375 F (190 C).
Heat a saucepan over medium heat. Add olive oil, garlic and onion, and sauté until soft, about 3 minutes. Add quinoa and chicken stock, increase heat and bring to a boil. Cover and reduce to a simmer, cooking for about 12 to 15 minutes. Turn off heat and allow quinoa to sit for 5 minutes, then fluff with a fork. Set aside.
In a saucepan, combine crushed tomatoes, tomato paste and balsamic vinegar. Bring to a simmer over medium heat. Add dried red chili flakes to sauce and season to taste with salt and pepper.
In a large bowl, mix together chicken, cooled quinoa, Parmesan and ½ cup (125 ml) shredded mozzarella, then add tomato sauce and mix well.
Pour quinoa mixture into a greased 9 x 13-in (3.5 L) baking dish and top with remaining mozzarella. Scatter top with baby bocconcini and grape tomato halves. Bake in oven for 12 to 15 minutes, or until cheese is melted and casserole is heated through. Garnish with chopped, fresh basil.
Drink Pairings