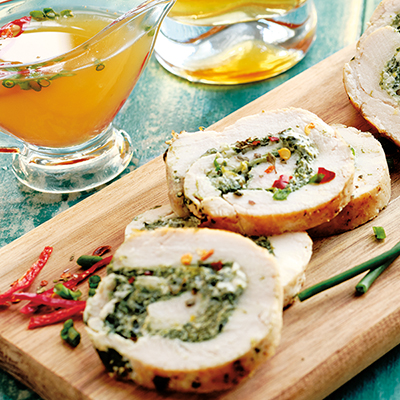 CHICKEN ROULADE WITH SPICY CITRUS BEER DRESSING
Ingredients
Serves 4 to 6
grapeseed oil, for greasing
4 x 6 oz (180 g) boneless, skinless chicken breasts, tenders removed
4 cups (1 L) packed spinach leaves, washed and dried
4 oz (125 g) plain cream cheese, softened
generous pinch black pepper
wooden skewers or kitchen twine, to assemble
1 tbsp (15 ml) unsalted butter, melted
diced mango or nectarine, red pepper chili flakes and chives, for garnish
SPICY CITRUS BEER DRESSING:
¾ cup (175 ml) fruity light beer
3 limes, juice only, about ½ cup (125 ml)
2 tbsp (30 ml) freshly squeezed orange juice
2 Thai chilies, seeded and thinly sliced, divided
1 large garlic clove, minced
¼ cup (60 ml) full fat sour cream (optional)
2 tbsp (30 ml) finely chopped fresh cilantro
Instructions
Preheat oven to 350 F (180 C). Arrange racks in bottom third and top third of oven. Lightly oil a baking sheet.
Place chicken on cutting board. Place hand flat on top and with a sharp knife, starting at thicker side of breast, slice chicken in half horizontally, being careful not to cut all the way through. Open like a book and place between two sheets of plastic wrap. Gently pound with the flat side of a mallet or a rolling pin to create an even thickness, about ƒ-in (0.8 cm) thick. Transfer to a plate and repeat with remaining chicken.
In a large pot of boiling water, blanch spinach until wilted, about 30 seconds. Drain. When cool enough to handle, squeeze out as much liquid as you can. Finely chop and transfer to a large bowl. Mix in cream cheese, lemon zest, salt and pepper until evenly blended. Add more seasonings to taste, if desired.
Place chicken pounded side up and spread with ¼ of spinach mixture, leaving ½-in (1.25 cm) space around edges. Starting at edge closest to you, tightly roll up chicken like a sushi roll and tuck in the ends. Secure with wooden skewers or tie with kitchen twine. Repeat with remaining chicken, then place seam side down on prepared baking sheet and brush with melted butter. Bake for 35 minutes, or until meat thermometer registers 160 F (70 C) when inserted into meat portion of roulade. Turn oven to broil for a couple minutes at the end to give chicken a golden crust.
When chicken is ready, remove to a cutting board, tuck a sheet of foil around it and let rest for 10 minutes. Slice into rounds and arrange with diced mango, chili flakes and chives. Serve with Spicy Citrus Beer Dressing alongside.
While chicken bakes, make Spicy Citrus Beer Dressing. In a small saucepan, over low heat, combine beer, lime juice, honey, orange juice, 1 chili, garlic and salt. Whisk until honey is dissolved and flavours are blended. Remove from heat and strain through a fine mesh sieve. Return to saucepan and whisk in sour cream, if using. Add remaining chili. Cover and keep warm over low heat until ready to serve. Whisk in cilantro right before serving. Makes about 1½ cups (375 ml).
Drink Pairings