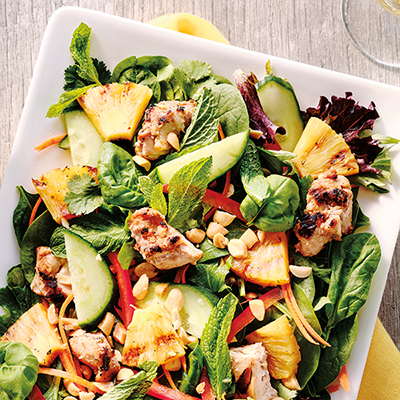 Chicken Satay and Pineapple Salad
Ingredients
Serves 4
6 to 8 boneless, skinless chicken thighs
1 tbsp (15 ml) chopped ginger
½ cup (125 ml) peanut butter
1 tbsp (15 ml) maple syrup
1 lime, juice only, divided
4 slices pineapple, cut into ¼-in (0.5 cm) rounds
5 to 6 cups (1.25 to 1.5 L) mixed greens
1 medium carrot, ribboned or julienned
1 English cucumber, sliced
¼ cup (60 ml) thinly sliced red onion
1 cup (250 ml) each basil, cilantro and mint leaves, or to taste
¼ cup (60 ml) chopped roasted peanuts
1 lime, cut into wedges, for garnish
Instructions
Place chicken into a large plastic freezer bag.
In bowl of a small food processor, pulse garlic and ginger until fine. Add peanut butter, fish sauce, soy sauce, maple syrup, Sriracha, oil, pepper, juice of half a lime and water and process until smooth. Pour half the peanut sauce into freezer bag and marinate chicken in refrigerator for at least 1 hour, up to 8 hours. Set remaining peanut sauce aside to dress salad.
Preheat barbecue to medium-high. Lightly grease barbecue and grill pineapple for 1 minute per side, until grill marks are achieved. Cut into bite-sized pieces and set aside to cool. Grill chicken for 6 to 8 minutes per side, or until it reaches an internal temperature of 165 F (74 C). Cut cooked chicken into 1-in (2.5 cm) cubes and set aside until ready to serve.
In a large bowl, toss together greens, carrot, cucumber, red onion and fresh herbs. Thin out peanut sauce with juice from remaining half lime and dress salad, as desired (you may not need all the dressing).
Finish salad with grilled pineapple and chicken pieces, sprinkle with roasted peanuts and serve with lime wedges on the side.
Drink Pairings