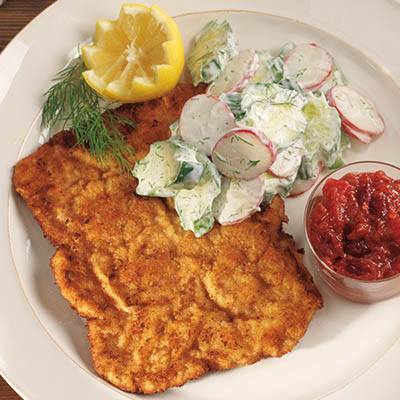 CHICKEN SCHNITZEL SERVED WITH CUCUMBER DILL SALAD AND APPLE CRANBERRY COMPOTE
Ingredients
Serves 4
4 x 6 oz (180 g) chicken breasts, pounded ⅛-in (0.25 cm) thick schnitzel-style cutlets
1 cup (250 ml) all-purpose flour
salt and freshly ground pepper
2 tbsp (30 ml) German-style hot mustard
2 cups (500 ml) dried breadcrumbs
½ cup (125 ml) canola oil, divided
½ cup (125 ml) unsalted butter, divided
chopped flat leaf parsley, for garnish
2 English cucumbers, about 2 lbs (1 kg)
⅓ cup (75 ml) plain 3% Greek yogurt
3 tbsp (45 ml) finely chopped fresh dill
1 tbsp (15 ml) rice vinegar or lemon juice
¼ tsp (1 ml) freshly ground pepper
½ garlic clove, finely grated, or to taste
1 bunch of radishes, rinsed, dried, trimmed and thinly sliced
1 tbsp (15 ml) vegetable oil
½ small onion, finely chopped
1 celery rib, cut into ¼-in (0.5 cm) dice
1 tbsp (15 ml) finely chopped ginger
1 x 12 oz (360 g) bag cranberries, fresh or frozen
2 medium Granny Smith apples, peeled and cut into 1-in (2.5 cm) pieces
½ tsp (2 ml) dried red chili flakes
½ tsp (2 ml) freshly ground pepper
¼ cup (60 ml) apple cider vinegar
¼ cup (60 ml) whole grainy mustard
Instructions
Lightly season each thin chicken cutlet with salt and pepper. Set up a breading station: in a shallow baking dish, mix together flour with ¼ tsp (1 ml) each salt and pepper. In another baking dish, whisk together eggs and mustard. In a third baking dish, combine breadcrumbs with ¼ tsp (1 ml) each of salt and pepper.
Dredge each chicken cutlet first in flour, covering well and shaking off excess, then in egg-mustard mixture, and lastly in breadcrumbs, making sure each cutlet is evenly coated. Transfer onto a baking sheet lined with a cooling rack and refrigerate for 15 minutes.
Preheat oven to 300 F (150 C).
Heat 2 tbsp (30 ml) of oil with 2 tbsp (30 ml) of butter over medium-high heat. When it starts to bubble, add one of the breaded cutlets and cook until golden brown on both sides, flipping once, moving pan constantly, about 3 to 4 minutes in total. Transfer to a baking sheet fitted with a baking rack, season with salt and pepper and keep warm in oven. Repeat with remaining cutlets, making sure to wipe out pan with paper towel, using new oil and butter each time.
Serve each Chicken Schnitzel with Cucumber Dill Salad and Apple Cranberry Compote (recipes follow).
To make CUCUMBER DILL SALAD: Halve cucumbers lengthwise, scoop out seeds and slice into half-moons.
In a medium bowl combine yogurt, dill, rice vinegar or lemon juice, sugar, salt, pepper and garlic. Add cucumber and radishes and toss with yogurt-dill mixture until well combined. Season to taste.
To make APPLE CRANBERRY COMPOTE: Grate peel of orange and set aside. Peel and discard pith. Separate orange into sections and add to food processor. Set aside.
Heat oil in a saucepan over medium heat. Add onion, celery, ginger and sauté until soft, 2 to 3 minutes. Add cranberries, apple, spices, sugar, cider vinegar, reserved orange and grated peel. Bring to a boil, lower temperature and simmer for 20 to 30 minutes or until thick, stirring occasionally. Remove and allow to cool. Stir in mustard to mix well. Store refrigerated in an airtight container up to a month. Makes about 4 cups (1 L).
Drink Pairings