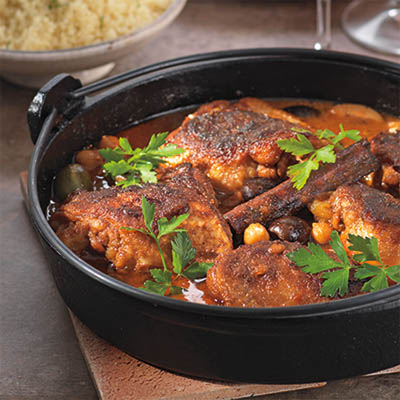 Ingredients
Serves 4 to 6
8 chicken thighs, skin on, bone in
2 tsp (10 ml) kosher salt
¼ tsp (2 ml) ground black pepper
2 tbsp (30 ml) vegetable oil, plus extra if needed
1 medium yellow onion, peeled and sliced
¼-in (0.5 cm) slice peeled ginger root
2 tbsp (30 ml) ground cumin
1 tbsp (15 ml) ground coriander
long, thin cinnamon stick
1 cup (250 ml) chicken stock
2 tbsp (30 ml) liquid honey
28 oz (796 ml) can chickpeas, drained and rinsed
¼ cup (60 ml) dried apricots, halved
¼ cup (60 ml) assorted olives
1 tsp (5 ml) preserved lemon, chopped
1 tbsp (15 ml) chopped cilantro
2 tbsp (30 ml) chopped parsley
Instructions
Season chicken with salt and pepper. In a large, heavy-bottomed saucepan or Dutch oven, heat oil over medium-high heat. Brown chicken in batches, removing to a separate dish once browned.
Reduce heat to medium. Add onion, garlic and ginger and cook until onion is soft and translucent. Add a little more oil if necessary. Add cumin, coriander and cinnamon and sauté for another 5 minutes.
Return chicken to saucepan. Add chicken stock, honey, chickpeas, apricots, olives, and preserved lemon. Bring to a boil. Cover, reduce heat and simmer for about 40 minutes, or until juices run clear when chicken is pierced with a fork.
Uncover, remove cinnamon stick and ginger root and discard. Stir in the lemon juice and parsley. Garnish with cilantro and serve with couscous.
Drink Pairings