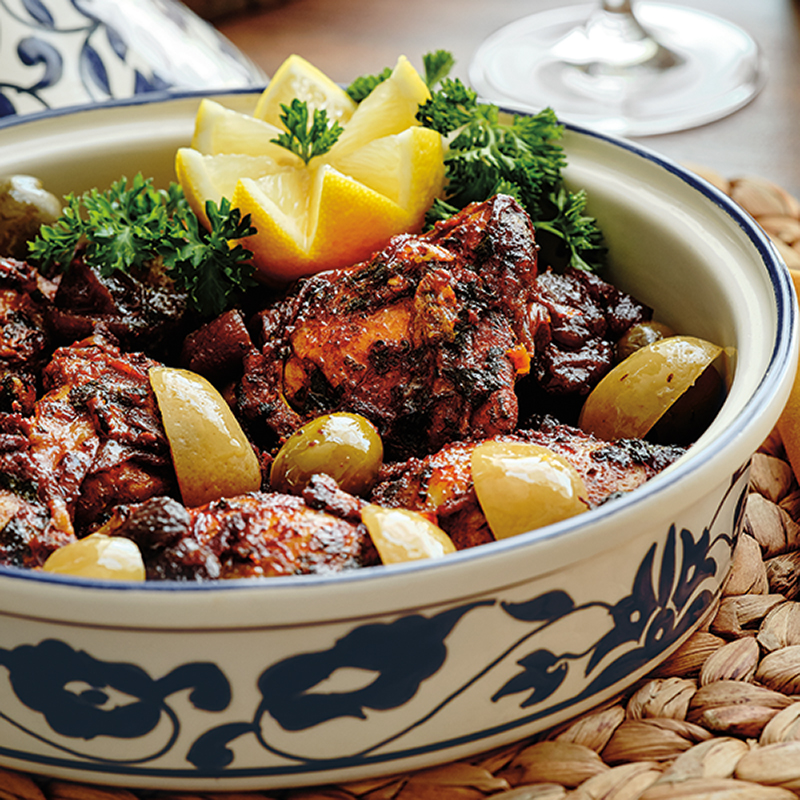 Chicken Tagine
Chicken tagine is a traditional Moroccan dish of chicken braised with preserved lemons, spices, garlic, onion and olives. This recipe is both savoury and a little bit sweet, thanks to the addition of Turkish apricots.
Ingredients
Serves 4 to 6
1 tsp (5 ml) saffron threads
1¼ cups (310 ml) warm water, divided
1 large (or 2 small) preserved lemons, quartered
½ cup (125 ml) chopped parsley leaves
½ cup (125 ml) chopped cilantro leaves
1 tbsp (15 ml) ground paprika
1 tsp (5 ml) ground cumin
½ tsp (2.5 ml) ground coriander
½ tsp (2.5 ml) ground cinnamon
1½ tsp (7 ml) ground ginger
¼ tsp (1 ml) freshly ground black pepper
¼ cup + 2 tbsp (90 ml) olive oil, divided
1 kg (2 lbs) boneless chicken thighs, skin on
2 cups (500 ml) chopped onions
¼ tsp (1 ml) ground turmeric
2 tbsp (30 ml) mild honey
1 x 3-in (8 cm) cinnamon stick
½ cup (125 ml) unsulphured Turkish apricots, halved
1½ tbsp (22 ml) lemon juice
⅓ cup (75 ml) pitted green olives
flat bread, rice or couscous, to serve (optional)
Instructions
Soak saffron in ¼ cup (60 ml) warm water for 15 minutes.
Separate pulp from peel of preserved lemons. Coarsely chop lemon pulp. Reserve peels for later.
To make chermoula (herb marinade), in a large bowl, combine saffron water, lemon pulp, parsley, cilantro, garlic, paprika, cumin, coriander, cinnamon, ginger, pepper and ¼ cup (60 ml) olive oil.
Add chicken to bowl with chermoula and rub marinade onto chicken. Cover and refrigerate 1 hour or overnight.
Drizzle remaining 2 tbsp (30 ml) olive oil into tagine* base. Add onions to cover base. Sprinkle salt and turmeric over onions.
Add marinated chicken and remaining marinade over onions.
If using ceramic tagine, place heat diffuser on burner. Place covered tagine or Dutch oven on burner over medium heat and cook for 15 to 20 minutes. Released juices from onions and chicken will start to simmer. Reduce heat to low and cook for 45 minutes to 1 hour, until chicken is fully cooked and tender.
In small saucepan, bring 1 cup (250 ml) water, honey, cinnamon stick and apricots to a boil. Remove cover and continue cooking over medium heat until apricots are plump and liquid is reduced and syrupy, about 10 to 12 minutes. Remove from heat and set aside.
Add lemon juice and olives to tagine. Arrange reserved lemon peel, prepared apricots and syrup over chicken. Season with salt and pepper, to taste. Cook, uncovered, for 15 to 20 minutes until sauce is reduced. Serve with warm flat bread, rice or couscous, if desired.
*A tagine is a North African cooking dish with a conical shape. A Dutch oven or Crock-Pot can also be used for this dish.
Drink Pairings