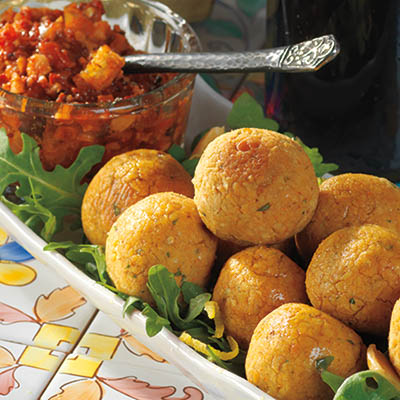 CHICKPEA BALLS WITH CATALAN ROMESCO SAUCE
Ingredients
Serves about 3 dozen balls and 2-3 cups (500-750 ml) of sauce
2 x 19 oz (540 ml) cans chickpeas, rinsed and drained
3 garlic cloves, smashed and minced
1 lemon, finely grated, zest only
2 tsp (10 ml) ground coriander
2 tsp (10 ml) ground cumin
1 tsp (5 ml) Hungarian paprika
freshly ground black pepper, to taste
¼ cup (60 ml) fine, dry bread crumbs
2 tbsp (30 ml) minced fresh parsley
2 tbsp (30 ml) fresh lemon juice
3 cups (750 ml) arugula, to finish
3 tbsp (45 ml) olive oil, to finish
¼ cup (60 ml) marcona almonds, to finish
1 lemon, juice and zest, to finish
1 slice white or whole wheat bread
½ yellow cooking onion, diced
1 x 14 oz (398 ml) can fire-roasted, diced tomatoes
2 garlic cloves, minced and smashe
½ cup (125 ml) coarsely chopped marcona almonds
1 tbsp (15 ml) red wine vinegar
extra-virgin olive oil, to finish
Instructions
To make CHICKPEA BALLS: In a food processor, combine chickpeas, garlic, lemon zest, coriander, cumin, paprika and salt. Pulse until chickpeas are finely chopped, scraping down sides of bowl with a spatula a few times. Add pepper, to taste. Add bread crumbs, parsley, egg and lemon juice and pulse briefly to blend.
Transfer mixture to a bowl and work with hands to fully blend. It should be consistency of cookie dough. Pinch dough together using fingertips and roll into 1 to 1½-in (2.5 to 4 cm) balls. Place on parchment-lined baking sheet, allowing a little space between balls, and refrigerate for about 30 minutes.
Meanwhile, preheat broiler and prepare ROMESCO SAUCE: Place bell pepper on baking sheet about 4-in (10 cm) from burner. Broil, turning pepper with tongs every couple minutes until pepper is blackened and soft. Remove and cool in a covered bowl.
In a small bowl, cover dried chilies with boiling water and set aside to soak for 30 minutes.
Heat oil in a frying pan. Add bread and fry over medium-high heat until golden on both sides and quite crisp. Remove from pan and set aside to cool. Finely dice.
Lower heat to medium, add onion to remaining oil in frying pan and sauté until soft. Add tomatoes, garlic, pinches of salt and sugar to taste and a little water. Simmer for 10 minutes until sauce is slightly thickened. Transfer to a large bowl and set aside.
Once cooled, peel and seed roasted red bell pepper. Finely chop and add to tomatoes in bowl.
Drain chilies and remove stems and seeds. Finely chop and add to tomatoes in bowl along with coarsely chopped marcona almonds. Stir everything together until well mixed.
Fold in diced bread and red wine vinegar. Taste and add more seasonings and sugar if you wish. For a smoother mixture, whirl in food processor, if desired. Splash some extra-virgin olive oil on top. Mixture can be made ahead and refrigerated up to 2 days.
Preheat oven to 375 F (190 C). Brush or spray chickpea balls all over with 1 tbsp (15 ml) olive oil. Bake in oven for 15 to 20 minutes or until golden and piping hot. Stir a couple of times during baking.
To serve, toss arugula with remaining 2 tbsp (30 ml) oil, lemon zest and a little lemon juice in a medium bowl. Arrange on a platter or plate, sprinkle with a few almonds and top with Chickpea Balls and serve with a small bowl of Romesco Sauce drizzled with a little extra-virgin olive oil.
Drink Pairings