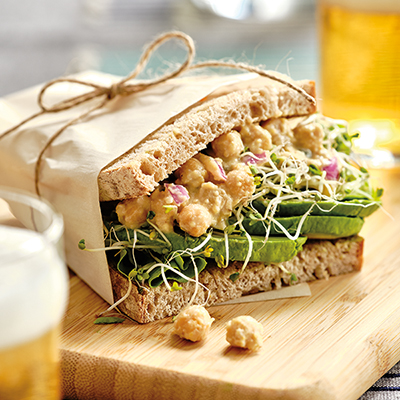 Chickpea Salad Sandwiches
Ingredients
Serves 4
1 x 19-oz (540 g) can chickpeas, drained and rinsed
2 garlic cloves, roughly chopped
1 tsp (5 ml) ground cumin
½ tsp (2.5 ml) smoked paprika
salt and pepper, to taste
½ cup (125 ml) diced dill pickles
1 tbsp (15 ml) Dijon mustard
8 slices rye bread, toasted and buttered
2 oz (60 g) alfalfa sprouts
1 avocado, quartered and sliced
sliced cucumber (optional)
Instructions
In a food processor, pulse half of the drained chickpeas along with garlic, tahini, lemon zest and juice, mayonnaise, cumin, paprika and smoked paprika until thick and smooth, like hummus, scraping down sides of food processor bowl as needed. Season with salt and pepper.
In a large bowl, combine celery, onion, pickles and remaining drained whole chickpeas. Mix in blended chickpea mixture. Season again with salt and pepper and hot sauce. Place in refrigerator for at least 1 hour to thicken.
To assemble sandwiches, spread mustard onto 4 slices bread. Layer sprouts, avocado, cucumber (if using) and a few spoonfuls of chickpea filling. Season again with salt and pepper to taste and top with remaining bread slices. Leftover chickpea mixture will keep in refrigerator in an airtight container for up to 1 week.
Drink Pairings