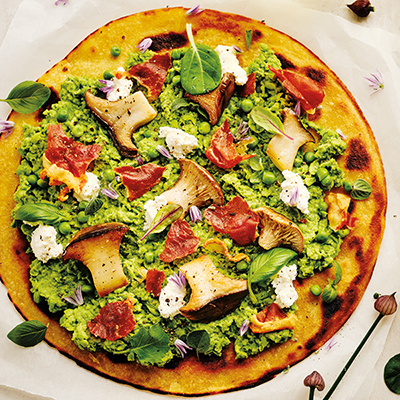 CHICKPEA SOCCA WITH PEAS, MUSHROOMS AND CRISPY PROSCIUTTO
Ingredients
Serves 2
1/3 cup (75 ml) chickpea flour
3 tbsp (45 ml) extra-virgin olive oil, divided, plus more for cooking
1 garlic clove, finely minced
1/3 cup (75 ml) water, or as needed
2 cups (500 ml) sliced king oyster mushrooms
salt and pepper, to taste
½ cup (125 ml) frozen peas, blanched
3 tbsp (45 ml) whipping cream
1 small handful baby greens
chive flowers (optional), for garnish
Instructions
Preheat oven to 375 F (190 C).
In a bowl, mix together chickpea flour, salt, 2 tbsp (30 ml) olive oil and garlic. Gradually whisk in about 1/3 cup (75 ml) water, or as needed, until batter is the consistency of heavy whipping cream. You may not use all the water, or you may need more. Set batter aside and let rest for 30 minutes.
Meanwhile, lay prosciutto on a parchment-lined baking sheet and bake until crisp, about 10 minutes. Remove and allow to cool, then break prosciutto into small pieces. Reserve baking sheet with prosciutto fat for next step.
Toss mushrooms with remaining 1 tbsp (15 ml) olive oil, season with salt and pepper and place on tray to roast in the prosciutto fat. Roast for about 15 minutes, or until golden.
Set aside ¼ of the peas for later, then pulse remaining peas in a blender with cream until you get a chunky purée. Season with salt and pepper to taste.
Heat a 10-in (25 cm) non-stick or cast iron pan over medium heat. Add a thin layer of olive oil to pan (slightly more for cast iron). Pour half the batter in and let cook until golden brown and set, about 5 minutes. Edges should crisp up from oil; if looking dry, add more oil. Carefully flip socca over and cook on remaining side for about 3 to 4 minutes or until golden brown, adding more oil if necessary. Repeat with remaining batter.
Lay socca on serving platters. Top with pea purée, then arrange mushrooms, prosciutto, whole peas and ricotta on each. Garnish with baby greens and chive flowers, if using.
Drink Pairings