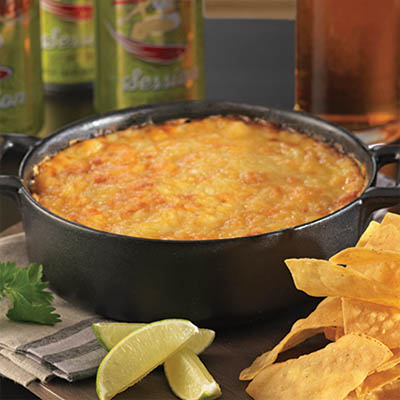 CHILI VERDE QUESO FUNDIDO
Ingredients
Serves 12
½ small yellow onion, chopped
2 tbsp (30 ml) extra-virgin olive oil
1 pinch crushed red pepper flakes
14 oz (398 ml) diced fire-roasted tomatoes
2 tsp (10 ml) active dry yeast
2 tbsp (30 ml) warm water
¼ cup (60 ml) unsalted butter, melted
3 cups (375 ml) all-purpose flour, plus extra for kneading
1 tsp (5 ml) kosher salt, plus extra
3 tbsp (45 ml) granulated sugar
¼ cup (60 ml) whipping cream
¼ cup (60 ml) grated Parmesan
Instructions
To make GARLIC BUTTER: In a small saucepan, melt butter with garlic over medium heat. Remove from heat and keep warm until needed.
To make ROASTED TOMATO SAUCE: In a small saucepan over medium heat, sweat onion in olive oil until soft and translucent. Add crushed red pepper flakes. Add tomatoes and simmer, covered, over low heat for about 15 to 20 minutes. Remove from the heat and purée in a blender until smooth. Serve with Garlic Knot as a dip.
To make GARLIC KNOT DOUGH: In a medium-sized bowl, sprinkle yeast over warm water until yeast is dissolved and bubbly. Add milk, 1 egg and melted butter. Whisk to blend.
In a large bowl, mix flour, salt and sugar. Add wet ingredients to flour mixture and mix with a wooden spoon until it comes together. Lightly dust a board with flour. Turn dough out onto a floured board and knead for about 10 minutes, or until dough is smooth and elastic
Place dough in a clean bowl and cover with a damp towel or plastic wrap. Let dough rise at room temperature for about 2 hours, or until doubled.
Punch dough down and divide into 12 even-sized balls. Roll each dough ball into a rope and tie into a loose knot. Place knots onto a parchment covered sheet pan, at least 3-in (8 cm) apart. Cover with a damp towel and let rise for 30 to 45 minutes.
Preheat oven to 375 F (190 C). Whisk remaining egg in a small bowl with whipping cream and a pinch of salt. Brush over dough knots.
Bake in the preheated oven for about 20 minutes, or until golden brown. Remove from oven and brush with Garlic Butter and sprinkle with Parmesan and chives. Serve with Roasted Tomato Sauce for dipping.
Drink Pairings