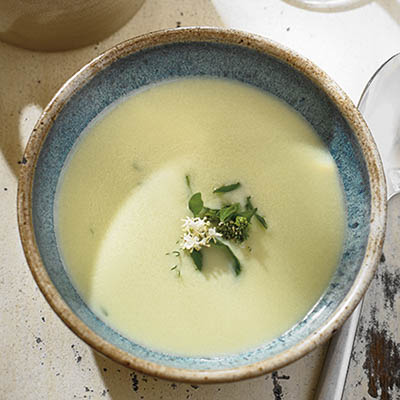 CHILLED MELON AND SORREL GAZPACHO
Ingredients
Serves 4 to 6
2 garlic cloves, unpeeled
1 English cucumber, peeled, seeded and chopped
1 lb (500 g) melon, such as a Korean melon, peeled, seeded and cubed
2 yellow tomato, peeled and seeded
7½ tbsp (112 ml) extra-virgin olive oil, such as Castela Notti
5 tbsp (80 ml) sherry vinegar
⅔ cup (150 ml) verjus, or any Portuguese Vinjo Verde
fresh mint or sorrel leaves, for garnish
Instructions
Preheat oven to 350 F (180 C). Place the unpeeled onion and the unpeeled garlic cloves in a small baking dish, rub with olive oil. Cover and bake for 15 minutes. Return onion to oven and continue roasting, covered, for another 15 minutes or until the onion is soft.
Remove onion and, when cool enough to handle, coarsely chop and add to garlic in blender along with cucumber, melon, tomato, extra-virgin olive oil, vinegar and verjus. Blend until smooth and lump free.
Press through a fine-meshed sieve for a smooth consistency, if you wish. Refrigerate until chilled. Serve in chilled soup bowls and garnish with mint or sorrel.
Drink Pairings