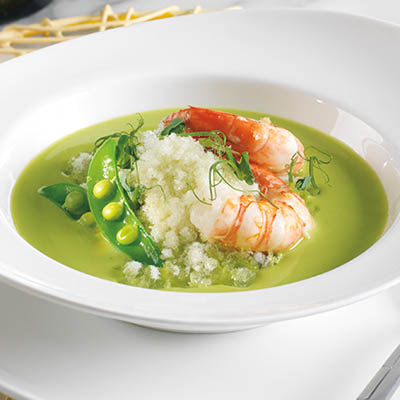 CHILLED PEA SOUP WITH SPOT PRAWNS AND MINT GRANITA
Ingredients
Serves 8
¼ cup (60 ml) granulated sugar
2 cups (500 ml) English cucumber, peeled, seeded and chopped
½ cup (125 ml) chopped white onion
6 cups (1.5 L) vegetable stock
2 cups (500 ml) fresh or thawed frozen peas
salt and freshly ground black pepper, to taste
½ cup (125 ml) whipping cream
1 tbsp (15 ml) grape seed or coconut oil
16 spot prawn tails, peeled and deveined steamed snap pea pods, for garnish
Instructions
To make GRANITA: In a small saucepan over medium heat, bring water and sugar to a simmer, stirring constantly. Once sugar has dissolved remove from heat and let sugar syrup cool to room temperature.
In a blender mix together cucumber, mint and sugar syrup until well combined and mint is very finely chopped. Strain mixture through a fine-meshed sieve into a container and freeze, uncovered, for 1 hour. Scrape frozen granita with a fork to break up ice crystals. Freeze for another hour and repeat freezing and scraping another 3 times. At this point, granita will keep covered in freezer for up to 2 weeks. Scrape to break up ice crystals before serving.
To make CHILLED PEA SOUP: In a large saucepan, warm olive oil over medium heat. Cook onion and garlic, stirring often, until onion turns translucent, about 4 minutes. Add stock and peas before turning up heat to medium-high and bringing mixture to a strong simmer. Turn heat down to medium-low and simmer gently, uncovered for 5 minutes for fresh peas and 2 minutes for frozen peas. Remove saucepan from heat and working in batches, purée soup in blender until smooth. Season to taste with salt and pepper. Strain soup into large bowl through a fine-meshed sieve before stirring in cream. Cover bowl with plastic wrap and refrigerate until well chilled, about 6 hours.
Just before serving soup, warm grape seed oil in large frying pan over mediumhigh heat. Add prawns along with a pinch of salt and pepper and sauté until cooked through, about 4 minutes. Ladle soup into serving bowls and top each with 2 prawns before topping with a dollop of mint granita and garnishing with snap pea pods and pea shoots. Enjoy immediately.
Drink Pairings