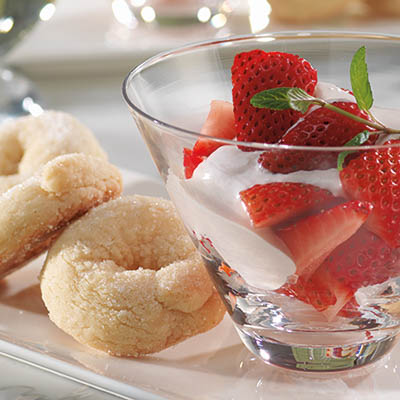 CHILLED RHUBARB SABAYON PARFAIT AND WHITE WINE COOKIES
Ingredients
Serves 4
½ tsp (2 ml) anise seed or Pernod liqueur
½ cup (125 ml) crisp white wine
1 tsp (5 ml) vanilla extract
2 cups (500 ml) all-purpose flour
1 tsp (5 ml) baking powder
½ cup (125 ml) granulated sugar, plus extra for garnish
⅓ cup (75 ml) sunflower or canola oil
1 cup (250 ml) chopped rhubarb, fresh or frozen, thawed
⅓ cup + 1 tbsp (90 ml) granulated sugar
5 tbsp (75 ml) white wine, divided
¾ cup (175 ml) whipping cream
4 cups (1 L) fresh strawberries, trimmed and quartered
Instructions
To make WHITE WINE COOKIES: Preheat oven to 350 F (180 C). Line 2 baking trays with parchment paper and set aside.
Using a mortar and pestle, lightly crush anise seeds, if using, before adding to a small bowl along with wine and vanilla extract. Let steep for 5 minutes. Alternatively, stir together Pernod with wine and vanilla extract before setting aside.
In a large bowl, whisk together flour, baking powder, salt and granulated sugar. Make a well in centre of flour mixture and strain in wine mixture, discarding anise seeds, if using, along with oil. Stir together with a wooden spoon until dough comes together. Turn out onto a work surface and knead a couple of times.
Divide dough into walnut-sized pieces. Working with 1 piece at a time, roll into a 3 to 4-in (8 to 10 cm) rope. Pinch together ends to form a ring and transfer to baking sheet. Repeat with remaining dough. Sprinkle cookies with extra sugar and bake until bottoms are lightly golden brown, about 20 to 25 minutes. Transfer to a wire rack to cool completely. Cookies may be stored in an airtight container for up to 4 days.
To make RHUBARB SABAYON PARFAIT: Start by preparing an ice-water bath in a large bowl and set aside.
In a small saucepan over medium heat, add rhubarb, sugar and 1 tbsp (15 ml) white wine. Stir until sugar dissolves before allowing to simmer, uncovered, until rhubarb is so tender it starts to fall apart, about 5 minutes. Transfer mixture to a blender and purée until smooth.
In a large metal bowl set over a large saucepan of simmering water, combine yolks, remaining 4 tbsp (60 ml) white wine and rhubarb purée. Whisk constantly until mixture is very thick and warm and has expanded in volume, about 7 minutes. Place bowl in ice-water bath and let mixture cool completely.
In a large bowl, beat whipping cream until stiff peaks form. Fold whipped cream into cooled rhubarb mixture. Cover with plastic wrap and refrigerate at least 20 minutes.
To serve, layer strawberries and chilled Rhubarb Sabayon Parfait in serving bowls or martini glasses. Serve each with a couple of White Wine Cookies on the side.
Drink Pairings