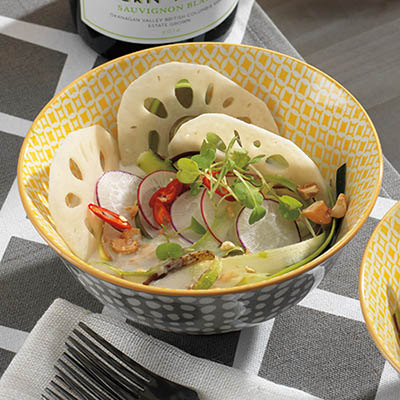 CHILLED ZUCCHINI NOODLE COCONUT LIME BOWLS
Ingredients
Serves 4
2 tsp (10 ml) peanut or coconut oil, plus extra if needed
½-in (1.25 cm) piece fresh ginger root, peeled and minced
2 Thai red chilies, halved and seeded, plus extra for garnish
1 cup (250 ml) chicken broth
2 x 14 oz (398 ml) cans coconut milk
2 tbsp (30 ml) lime juice, plus extra if desired
1 tbsp (15 ml) brown or palm sugar
1 tbsp (15 ml) tamari sauce
2 tsp (10 ml) light-coloured miso paste
½ lb (250 g) fresh green or red (or a combination of ) asparagus spears, preferably thick stalks
1 green zucchini, about 8-in (20 cm) long
1 small lotus root, peeled
4 large radishes, trimmed
¼ cup (60 ml) micro arugula leaves
¼ cup (60 ml) salted cashews
¼ cup (60 ml) salted cashews
Instructions
Heat oil in a large, heavy saucepan. Add garlic, ginger and chili peppers and sauté for 30 seconds over medium-high heat or until aromatic. Do not let it brown. Add chicken broth to deglaze pan.
Stir in coconut milk, lime juice, sugar, tamari sauce and miso paste. Whisk to blend. Gently simmer for 5 minutes to blend flavours. Remove from the heat and bring to room temperature. Refrigerate until chilled.
When broth is chilled, trim root ends of asparagus. Using a hand-held vegetable peeler, shave spears into long thin strips. If tips break, simply add to strips. Place in a bowl. Repeat with zucchini using a hand-held peeler or spiralizer and add to asparagus. Thinly shave peeled lotus root crosswise into thin rounds using a mandolin. Thinly slice radishes on mandolin.
To serve, place asparagus and zucchini into serving bowls. Tuck a couple slices lotus root alongside. Pour chilled broth over top. Arrange radishes in centre and sprinkle with arugula and cashews. Garnish with cilantro and serve chilled.
Drink Pairings